There are many games that are release for the audience. From conventional games to modern shooting games, these games entertain users on a different level. Today, in this article, we are going to discuss one such game that has finally arrive and is a buzz in the gaming world. The name of this game is Cyberpunk 2077. We are going to discuss Cyberpunk 2077 system requirements. As well as the specifications that are widely require to play the game.
Cyberpunk 2077 is finally out, after being await by fans for eight whole years! The first teaser of the game was reveal back in 2012. Subsequently, a short teaser was release after a year, which did nothing to help the fans' enthusiasm. Thereafter, about two years ago the game was a display for the first time at E3 2018. That has kept the fans waiting patiently and keenly for the game.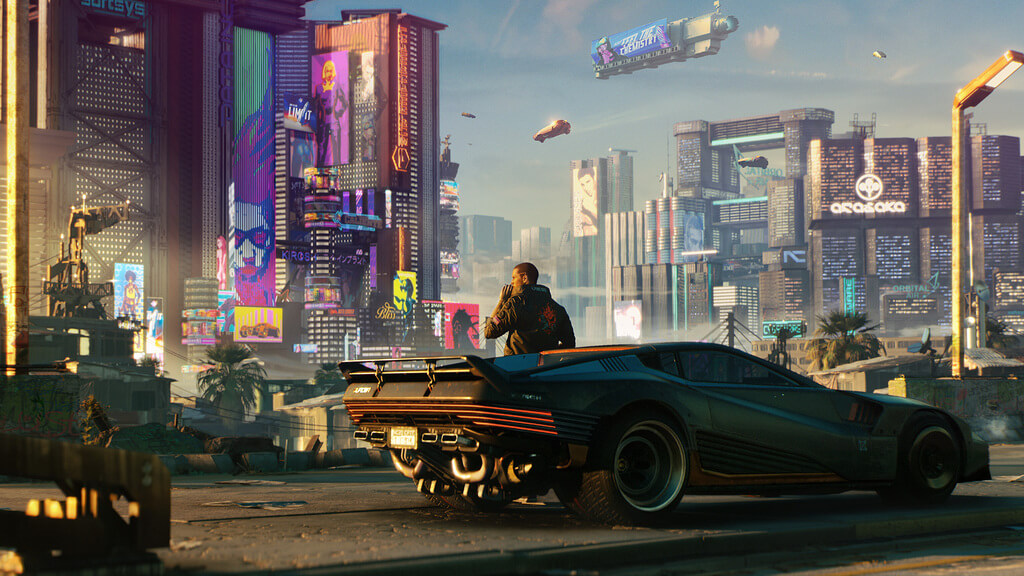 Source: futurecdn.net
The game was finally release on Thursday, December 10. Cyberpunk 2077 has overall receive very positive reviews, though there are some things you should be aware of before you purchase the freshly-release game. That is if you haven't pre-book it already.
Cyberpunk 2077 is releasing on PlayStation 4, PC, Xbox One, and Stadia as well. But don't worry if you have the latest versions of these platforms, as it will run on. The next-generation PlayStation 5 and the Xbox Series X/S as well. The task of fine-tuning the game for all these platforms is what had cause. The latest delay in the game's official release.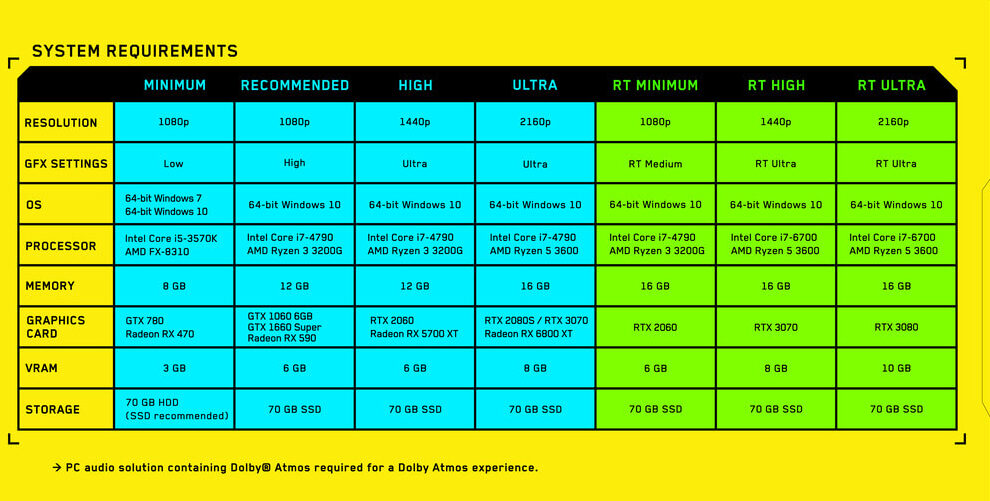 Source: cdprojektred.com
Cyberpunk 2077 Recommended Specs:
One of the basic requirements of this game is, of course, its size; how much space will it take up?
If you are using a PC, this game will take up 70GB of disk space whereas, on the PS5 or PS4. The download size of Cyberpunk 2077 is over 100GB. If you use Xbox, then the game will take up under 60GB but as share by a Twitter user. There is a 43GB Day One patch for the game.
CD Projekt Red share PC requirements for the game last month, running it at 1080p, 1440p, and 4K resolution.
Here are some requirements that you should be aware of:
Cyberpunk 2077 System Requirements (Minimum)
Resolution 1080p is prefer for optimum results.

The processor requires here is Intel Core i5 third-gen 3570K. While for AMD, a medium FX-8310 processor is recommend.

GPU: GTX 780/ Radeon RX 470 can be use.

You will need RAM of 8GB.

And VRAM of 3GB.
Cyberpunk 2077 System Requirements (Ultra)
Resolution 2160p is recommend.

The processor require here is Intel Core i7-4790/ AMD Ryzen 5 3600.

GPU: RTX 2080S/ RTX 3070/ Radeon RX 6800 XT.

You will need a RAM of 16GB.

While VRAM of 8GB will be require.
Cyberpunk 2077 System Requirements (Ray Tracing On, Minimum)
Resolution 1080p is suggest.

The processor requires here is Intel Core i7-4790/ AMD Ryzen 3 3200G.

GPU: RTX 2060.

RAM of 16GB will be require.

Whereas, VRAM of 6GB is sanction.
Cyberpunk 2077 System Requirements (Ray Tracing On, Ultra)
A resolution of 2160p is recommend.

The processor requires here is Intel Core i7-6700/ AMD Ryzen 5 3600.

GPU: RTX 3080.

RAM of 16GB will be require.

While VRAM of 10GB will be need.
Now, that we have talk about the requirements of the game, let us have a glance at its pricing and stuff.
The game is the price at ₹2,999 on Steam, whereas its Xbox version can cost you ₹3,490. If you use PlayStation, then it can cost you ₹3,499.
Cyberpunk 2077 Reviews and Its Bugs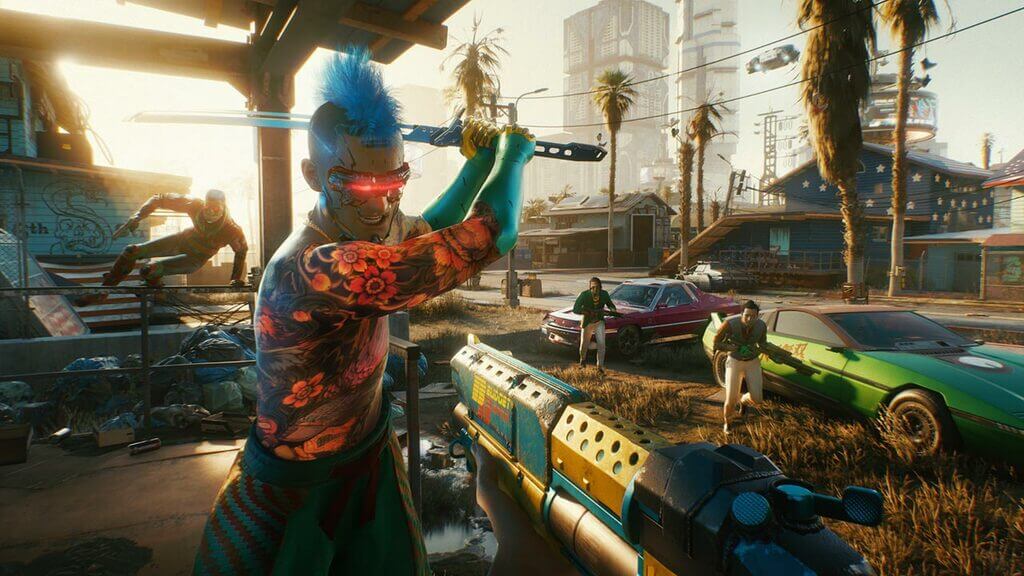 Source: kinstacdn.com
CD Projekt Red lift the review restraint on Monday night and aggregators like Metacritic and OpenCritic gave it a whopping 91 out of 100 average scores and 92 out of 100 respectively. As the averages suggest, the PC reviews are fairly positive but the game has various, numerous bugs of speckle severity.
While the game has gain reviews with all sorts of adjectives ranging from 'fantastic' to 'dazzling' the reviewers have detect several bugs like scripting issues that impact the NPCs, enemies may see through the walls, floating weapons, sound mixing bugs, reloading the game doesn't precisely restore the game state, and many more as pick up by Windowscentral.
Fortunately, CD Projekt Red's Fabian Mario Döhla tweet about how the company is well aware of the aforemention bugs and how a bunch of issues which the reviewers encounter (and report) has been fixing already, while some more are part of the update.
This tweet has shone through like a knight in shining armor for new players or for those who are waiting for it to be fix.
Also, the developers of Cyberpunk 2077 have announce that they are working on adding a separate epilepsy warning in the game, besides the one which is already present in the EULA. They also specify that the team is working for a more permanent solution and that it will be implement as soon as possible.
Furthermore, there is also a 'streamer mode' fit in the game. This mode will specifically help the gamers with disabling copyright strikes, which will help the gamers stream whichever music they like without worrying about playing music that is own by someone else.
Cyberpunk 2077 Gameplay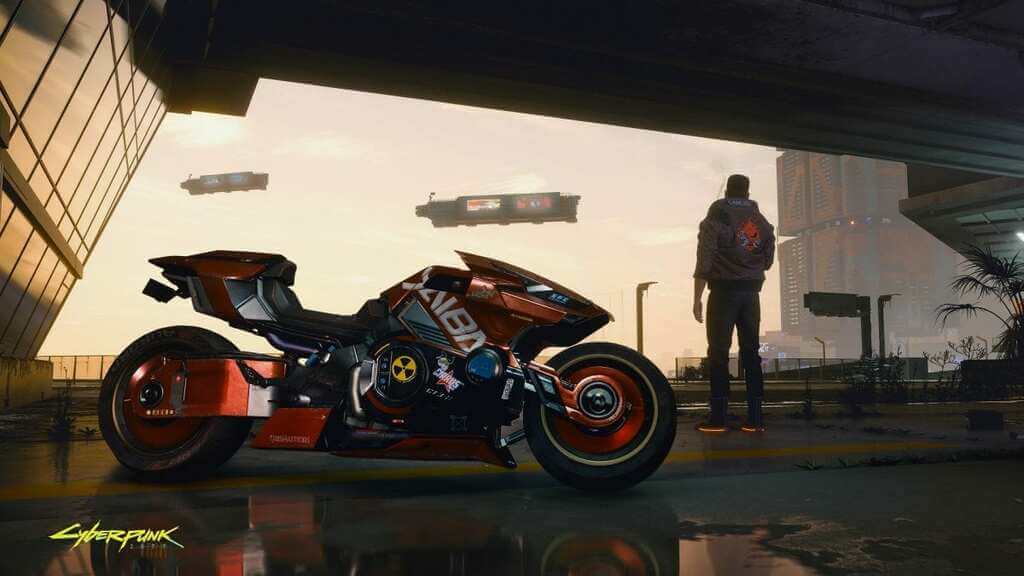 Source: cinelinx.com
Mark by its six separate regions, Cyberpunk 2077 is set in the dystopian Night City. The gamers will have to take control of the character 'V', who is a covetous desperado whose decisive goal is to acquire a prototype implantable chip which is a key to immortality. As the character, you will have to take on commercial leaders, secretive hustlers, and everyone in between— these game choices will directly affect how your story unravels.
The character of V is as customizable as it comes. You can easily opt for the gender of your character, select your custom hairdo, what clothing you want V to wear, and you can even fiddle around with the body type of your character with the help of body type settings to find the right match for yourself.
You also have various options of several character classes to choose from, which entails the NetRunner who is very proficient in hacking, Techie who is suitable with machinery, and Solo if you prefer gore with all the guns blazing and the whole caboodle. Each class will bring its own set of uniqueness and customizations with gameplay styles. As the game proceeds, you can buy various augmentations that will add new aptitudes and improve those who already exist, which can result in you turning a 'living weapon' with all of these new assets.
Also Read: Conquer The Gaming World With Upcoming Games 2020
In Brief:
The game has a bunch of various other things to offer apart from story missions. The open world of Night City does entail several side missions, gang scuffles, and activities that can keep you eventful for hours. In a recent panel discussion, the senior expedition designer said that the main story of Cyberpunk 2077 is slightly shorter than their previous game 'The Witcher 3'. Fun fact: Wild Hunt takes approximately fifty hours to complete, that too only if the player doesn't get distract by the side quests!
I am sure the one question that kept making the gears in your head work even at nightfall was definitely: where does Keanu Reeves fit in?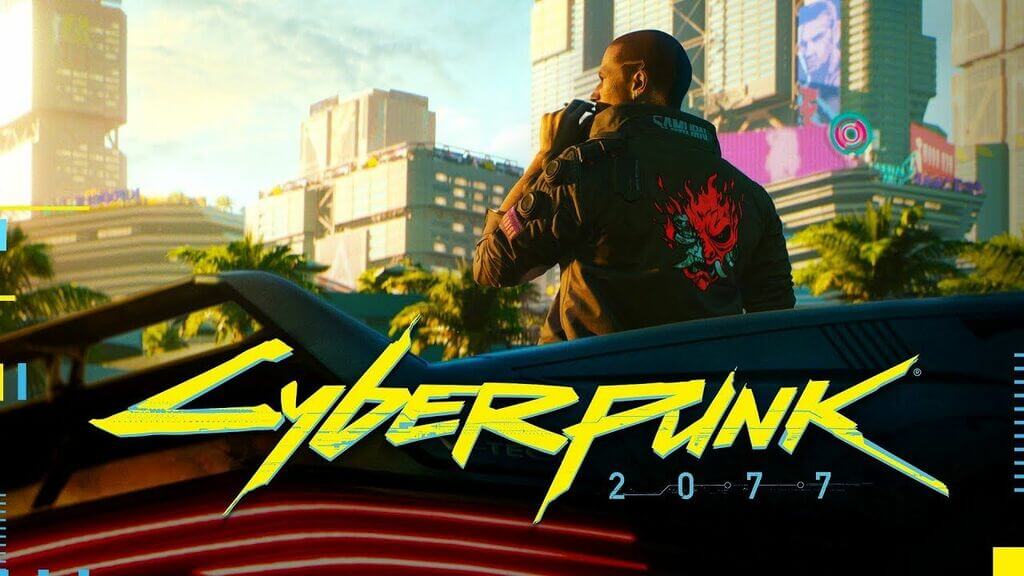 Source: mspimages.in
As you proceed in the story, your character— V— will sooner or later come across a prototype biochip that they slot in their head to save the chip from getting corrupt. This chip stores the digit soul of Johnny Silverhand (Reeves), who is portray as a compelling and charismatic rebel rocker who is now looking for vengeance. A behind the scenes trailer displays Reeves being all hands-on during the motion capture sessions for Silverhand and how he got to play the same character in various ways to keep up with the game's multiple-choice gameplay.
If all the action unraveling gets too much for you to stomach then you can easily take a break. You can always frivolously roam around the Night City in ultramodern vehicles or partake in one of the many side activities which are speckled around throughout the open-world map, the list of activities also entail riding on a roller coaster ride!
Conclusion:
That was all about Cyberpunk 2077 pc requirements! The game is indeed a special one and all the gamers are pretty excited about this one. We have discussed the requirements in this article. We hope this article served its purpose and will help you in gaining the insights required to play the game.
For more information, visit Technographx.