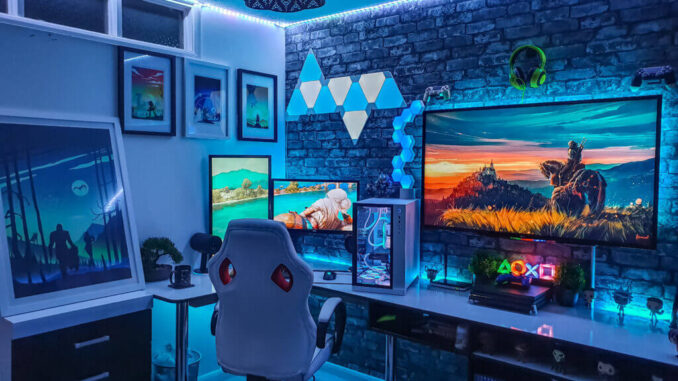 Every game lover out there in the universe has one and only wish – to have a gaming setup in his room (or a separate room for it). So whether you are a professional or playing games just to keep yourself busy, this article is for you. Before you finally decide on taking up the best gaming setup as per your requirements, do check your list about the same. You can also say that it is a one-time investment that is going to last for an eternity. You might already have your priorities set. 
When you are looking for a pc gaming setup, it is not only about cool RGB lights, it is more of Processor, RAM, Storage, Motherboard, and other effective factors. Without much ado, let's start off with our article. 
The very first section is essential for setting up a gaming area, then we have mentioned a few of the best gaming setups till now! (Inspired from Instagram accounts) In the end, we have penned down some tips on the gaming room setup.
What are Gaming Setup Essentials?
Wait before start setting up the gaming area or room, here are the things that you should definitely make sure to have beforehand. Okay! You can get them with the PC as well.
1) Plenty Of Room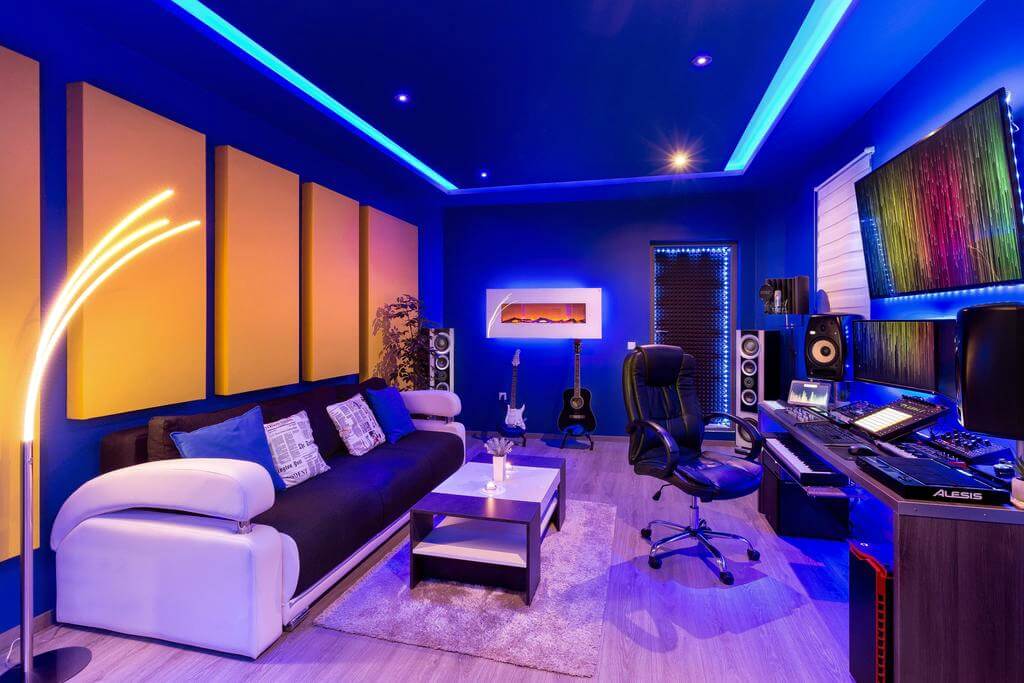 Source: aivanet.com
First think that, you are not making space for work from home PC, it is a gaming setup it will have a huge CPU and a widescreen monitor. Wherever you are going to install the setup and PlayStation VR, make sure it has plenty of room. 
2) Comfortable Chair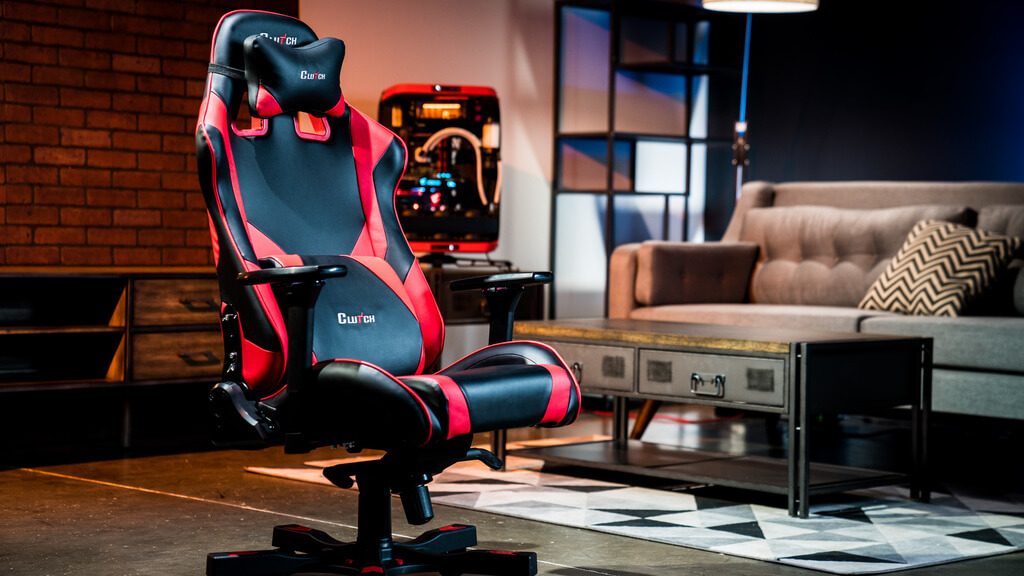 Image Source: improb.com
Another important thing is a gaming chair, you are going to spend most of the time sitting on it. Make sure it is the most comfortable one. There are several options available in them, you can even go for recliners.
3) Good Lighting in the Room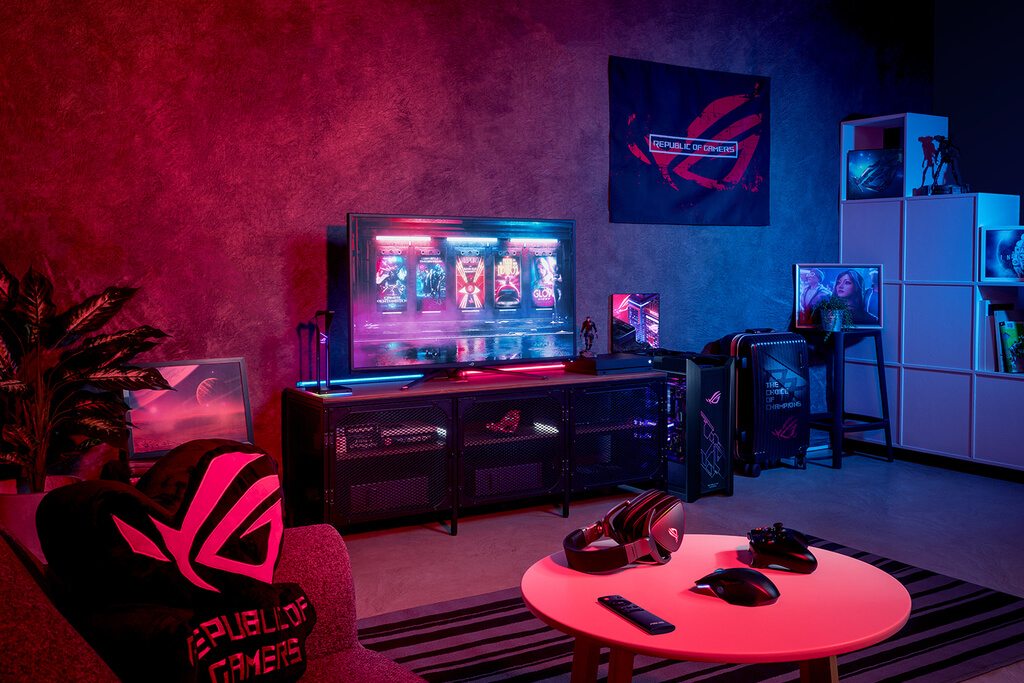 Source: asus.com
The spacious room with perfect lighting is an essential part of the gaming room. The lighting in the room is complementing the gaming desktop and is soothing. You won't want to sit in the darkroom playing games and harming your eyes until the horror games are your choice.
4) LED Strips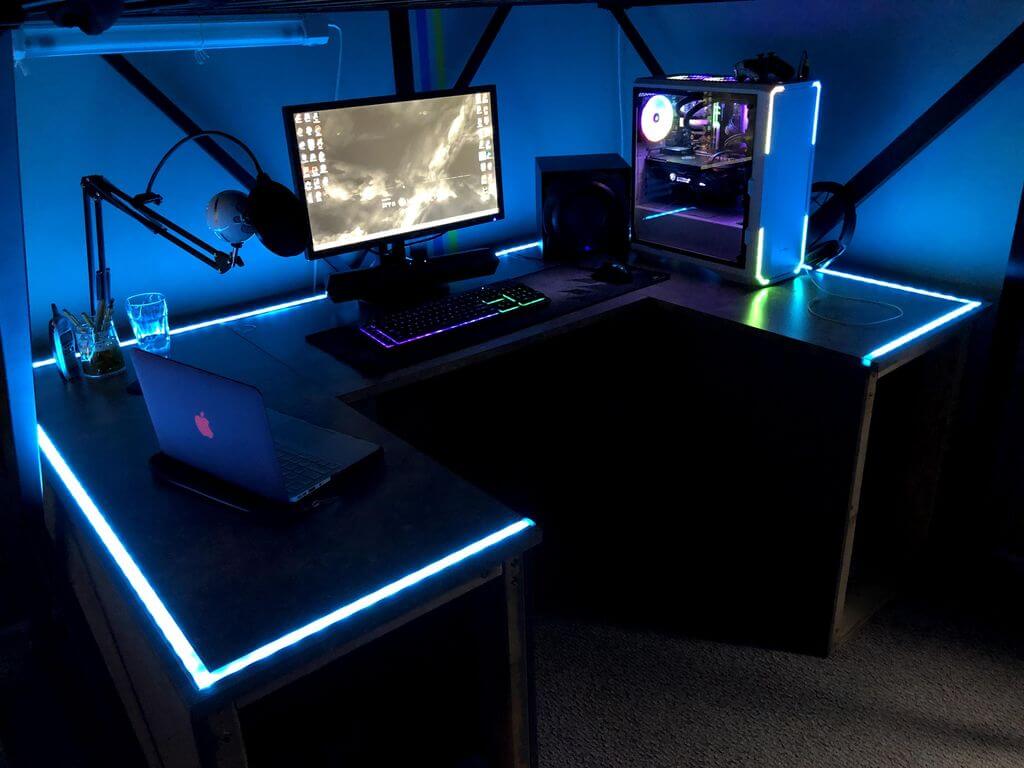 Image Source: pinimg.com
Light plays an important role in setting up a gaming space. Plus, LED strips have taken up the trend and every A-one gamer has LED strips installed. There you can place it behind your monitor, on the sides of the CPU, or even on the poster on the wall. The concept here is to add a pop of color with LEDs.
5) Cable Manager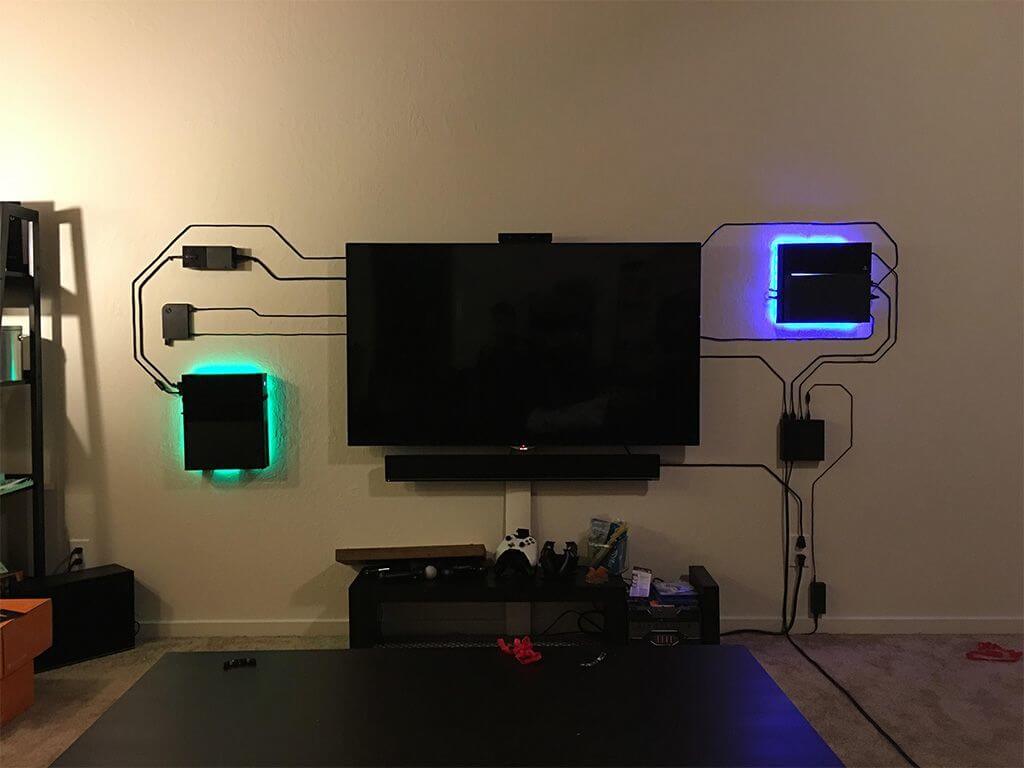 Source: futurecdn.net
If you want to assemble a personal computer there will be plenty of wires for you to handle, and if it is for gaming there will be more cables than the normal one. So consider investing in the cable manager to keep your wires safe and in its place. 
They come in several forms, it can be a cloth roller or even a box. Think if you don't want to invest in something like that for now you can use wool thread or duct tape for the same.
6) Controller and its Grips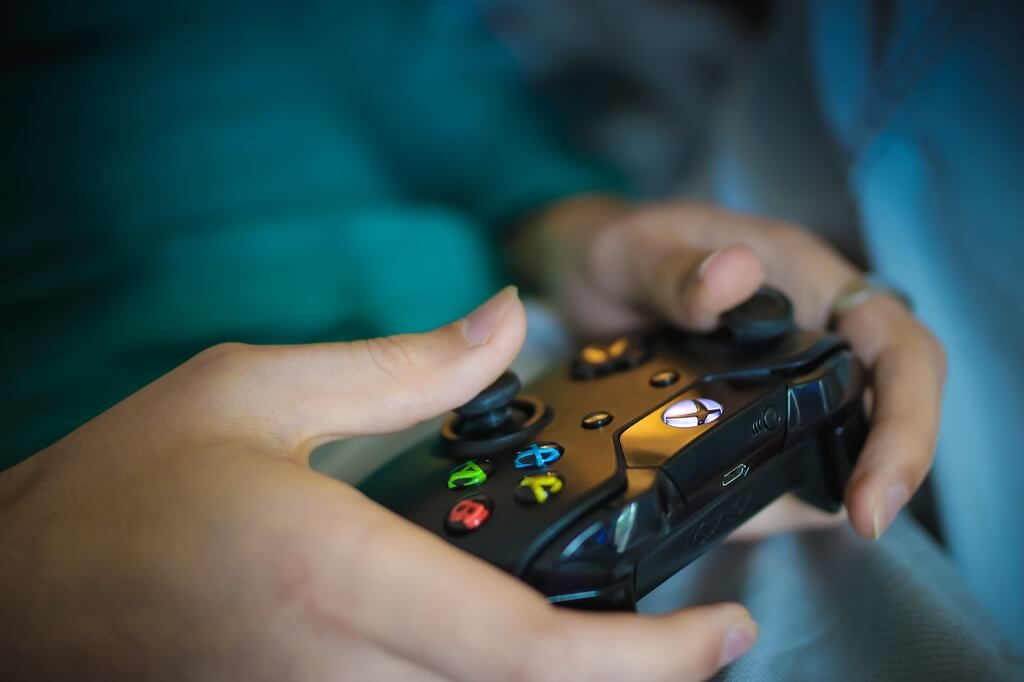 Image Source: forevergeek.com
The controller is also among the gaming setup essentials, it lets you play with ease. There are games which you can't play with a mouse and that is when controllers can help you. Having grips will make the gameplay more interesting and win.
7) Keyboard Brush and Air Canister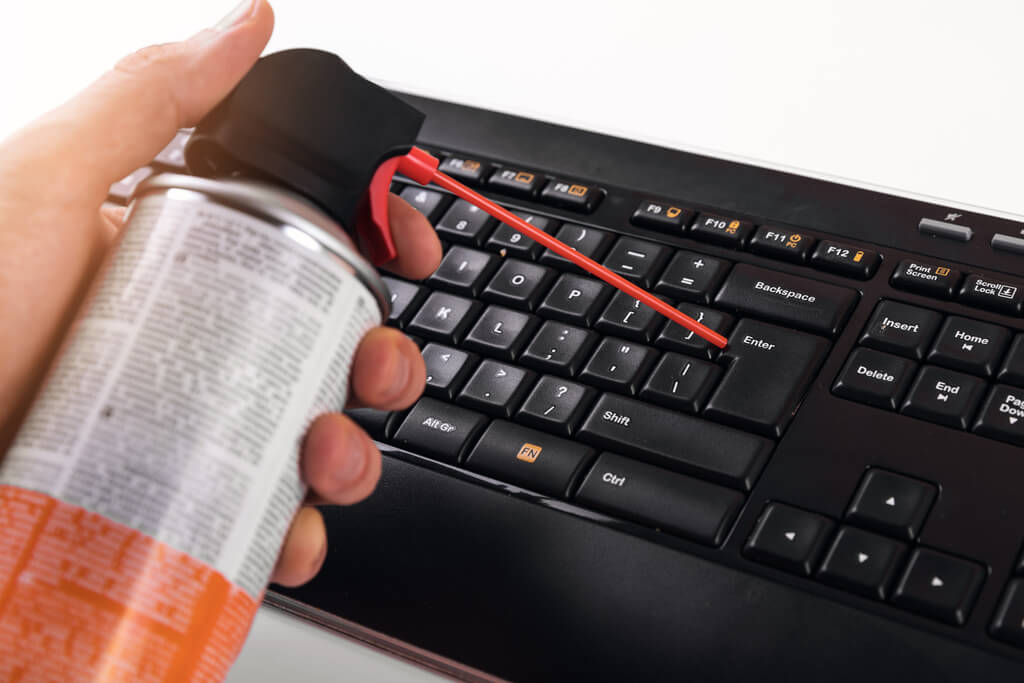 Source: safetyandhealthmagazine.com
When you are dealing with the huge system setup, it is obvious there will be a need for cleaning. You can't cover the keyboard and other stuff every time with cloth or something, but cleaning is possible. Therefore having a keyboard brush and air canister will come handy.
8) Extra-long Mouse Pad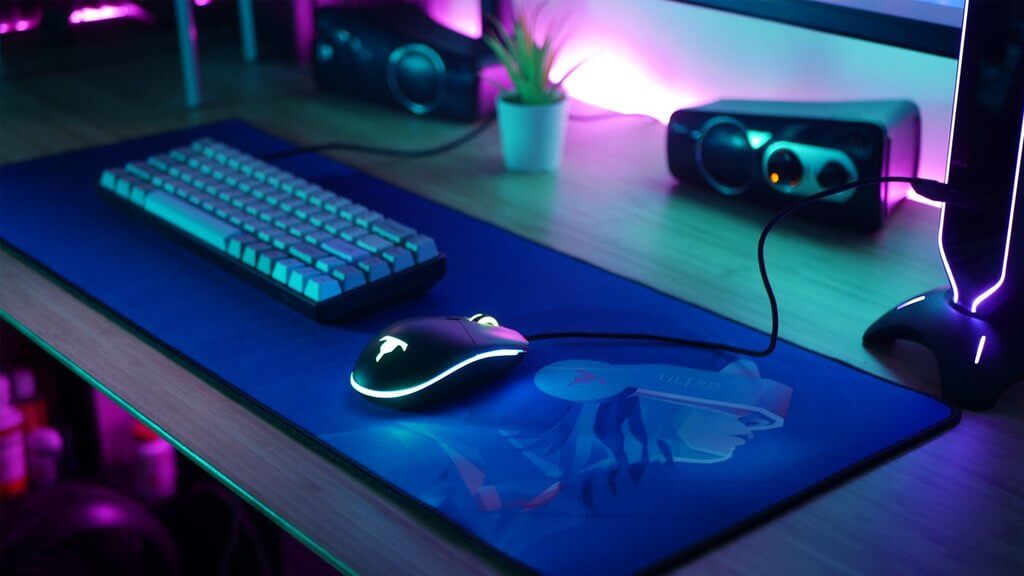 Image Source: shopify.com
You never know to which length you will have to move your mouse. We all know the mouse works smoothly only when it is placed on a pad. You will be able to whip around and kill the enemy with a single shot. Here are some of the best gaming mouse pad for you.
9) External HDD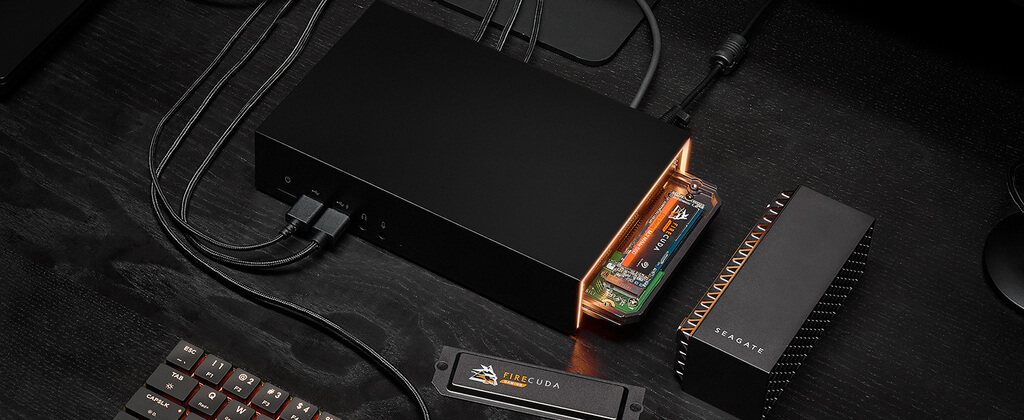 Source: amazon.com
Games take up your space more than you think, even if you have storage of 240 GB, it will be short. You don't want to download, install, uninstall, re-download, and unending process to follow. Do you? Then get your hands on an external hard drive to keep your games and stuff handy.
These are the most important things for the gaming setup. Apart from all these, there are other few things which will set up the right gaming mood with wall mounts, game postures & figurative toys, headset stand, and many more. All consider buying a USB desk fan for long night gaming sessions in summer nights.
Also Read: 3 Most Expensive Gaming PC of the World
Best Gaming Setups in the World
#1: For RGB Lovers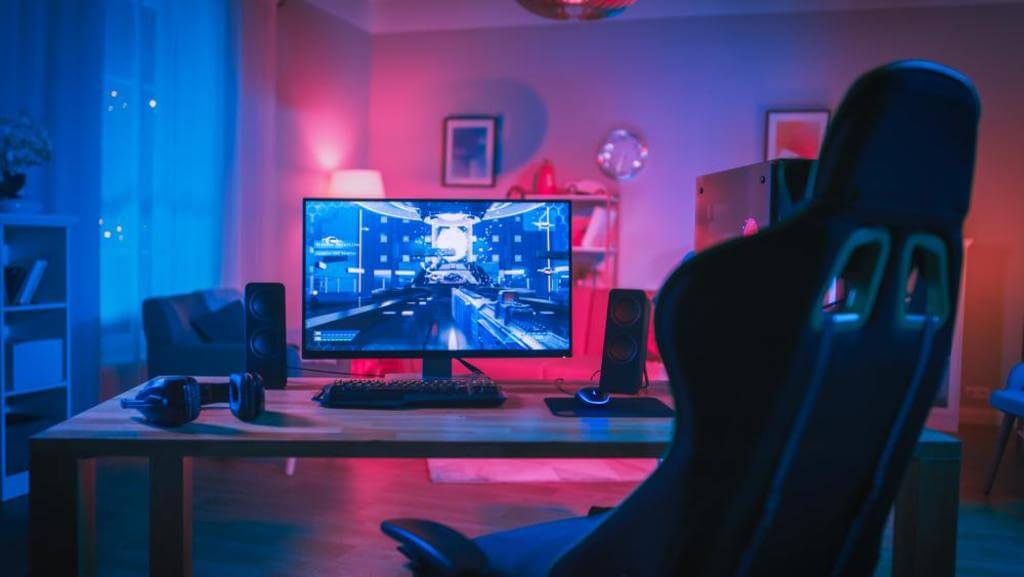 Image Source: shopify.com
#2: Ultra Cool Gaming Setup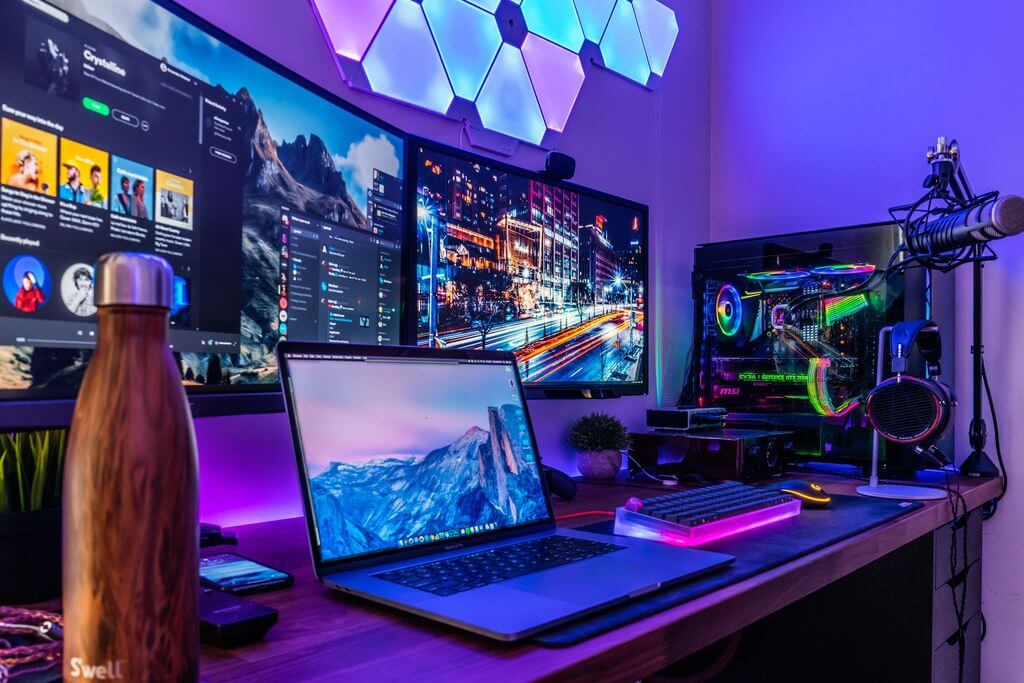 Source: pinimg.com
#3: Beautiful Battlestation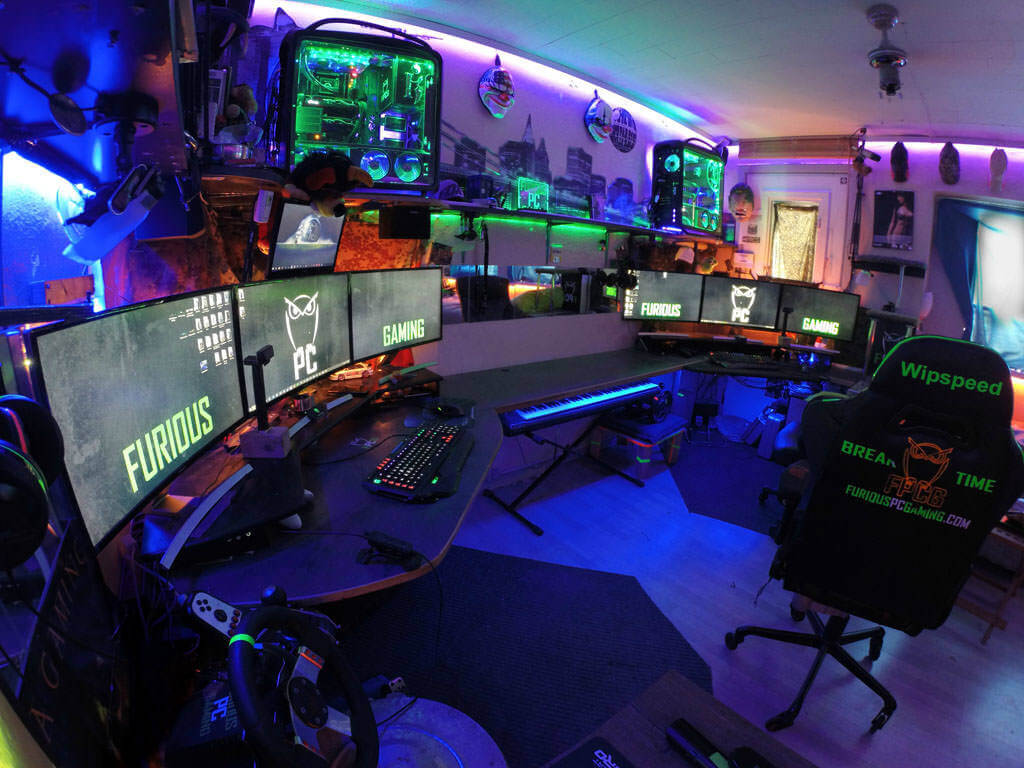 Image Source: wp.com
#4: Ice Blue Gaming Station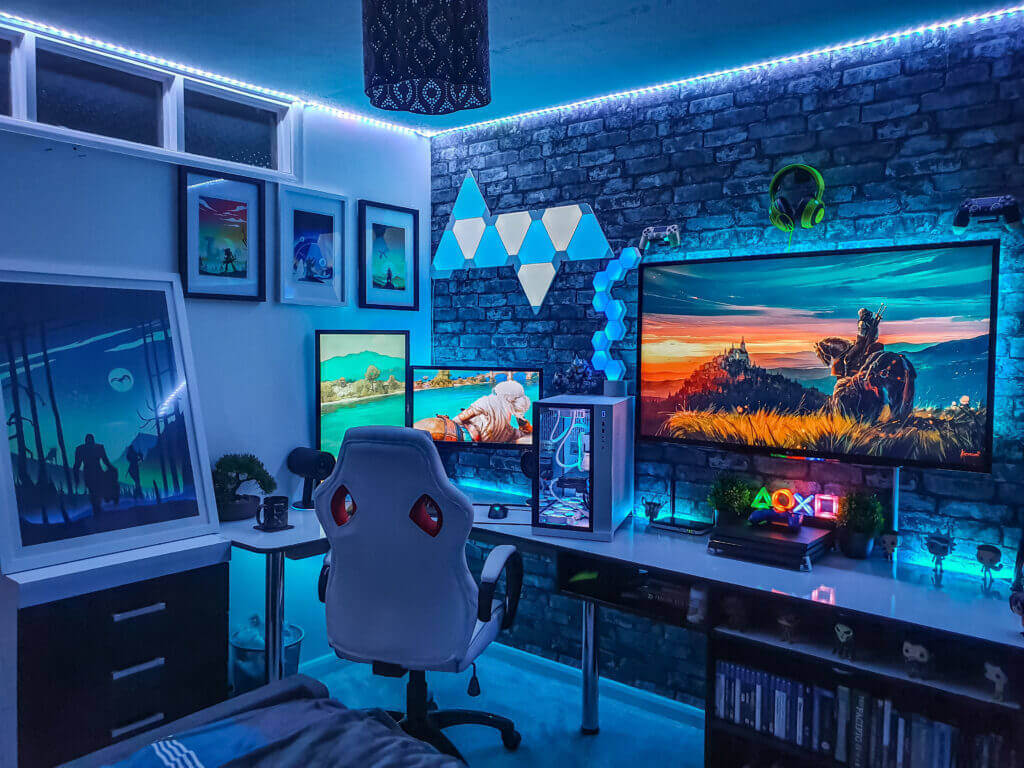 Source: pcmecca.com
#5: Beautiful and Elegant Setup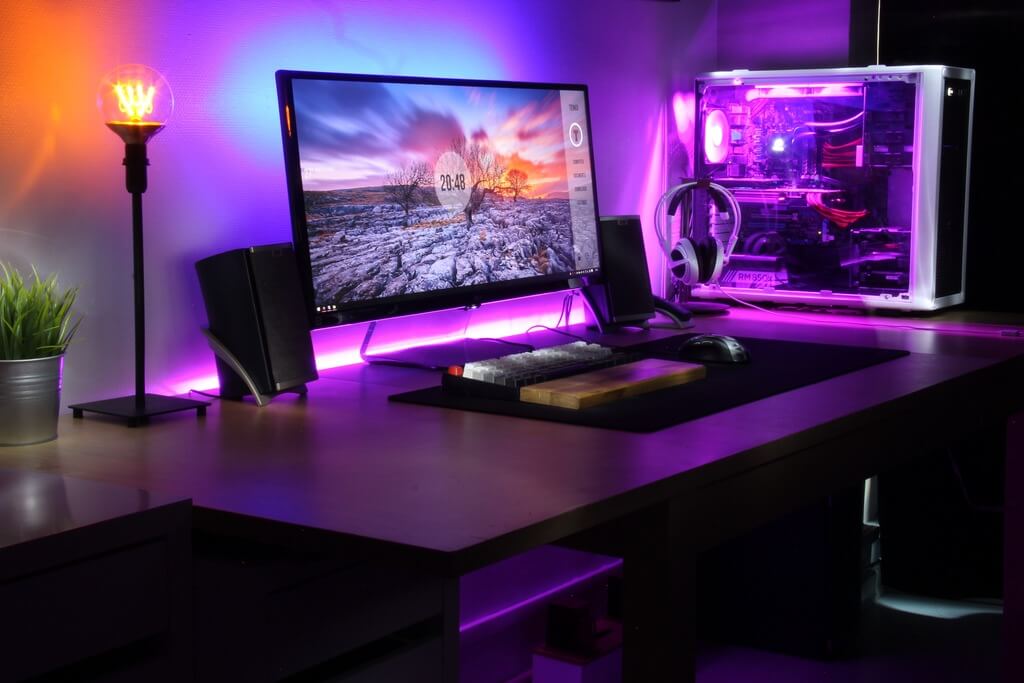 Image Source: imgur.com
#6: Duo Gaming Setup
Source: pinimg.com
#7: Midnight Blue Gaming Setup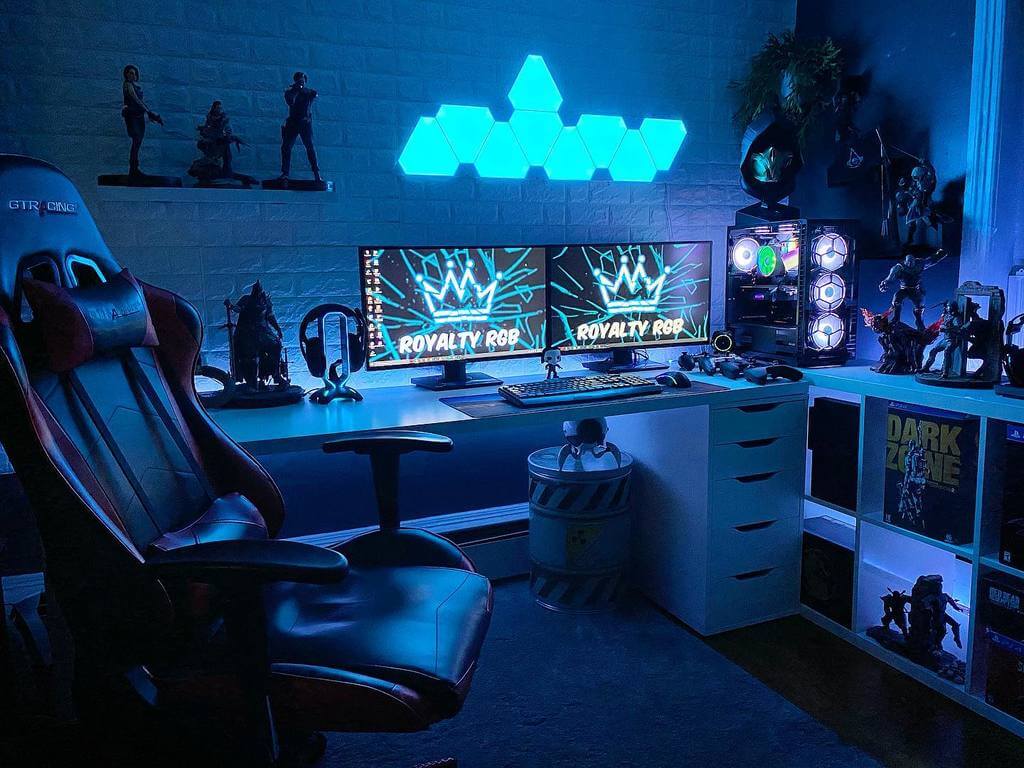 Image Source: googleusercontent.com
#8: Next Level Gaming Setup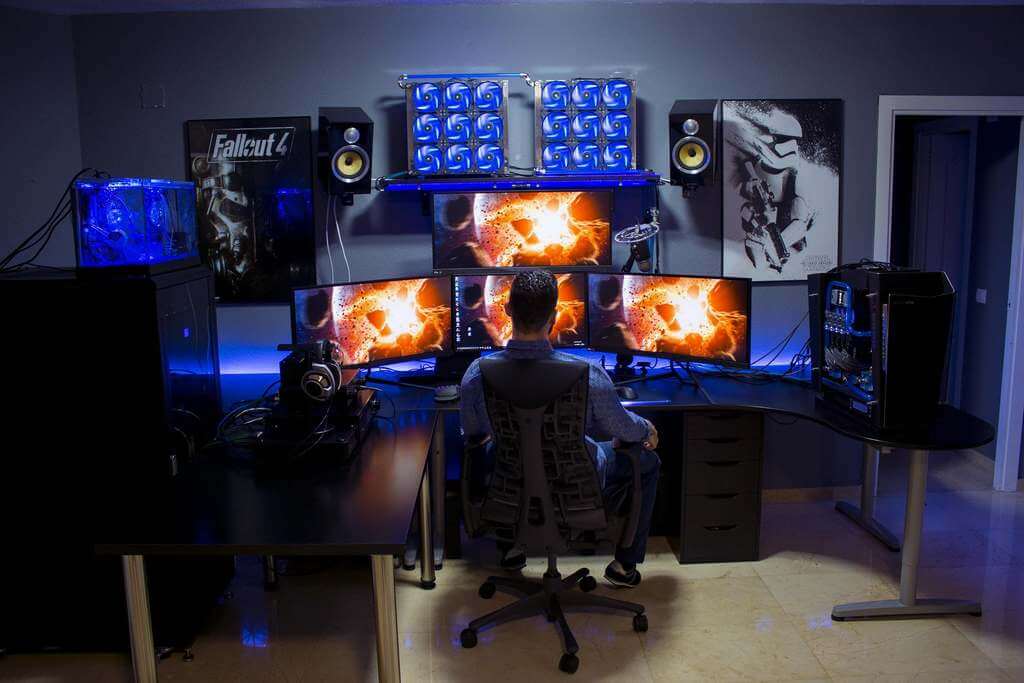 Source: external-preview.redd.it
#9: Girl Power Gaming Setup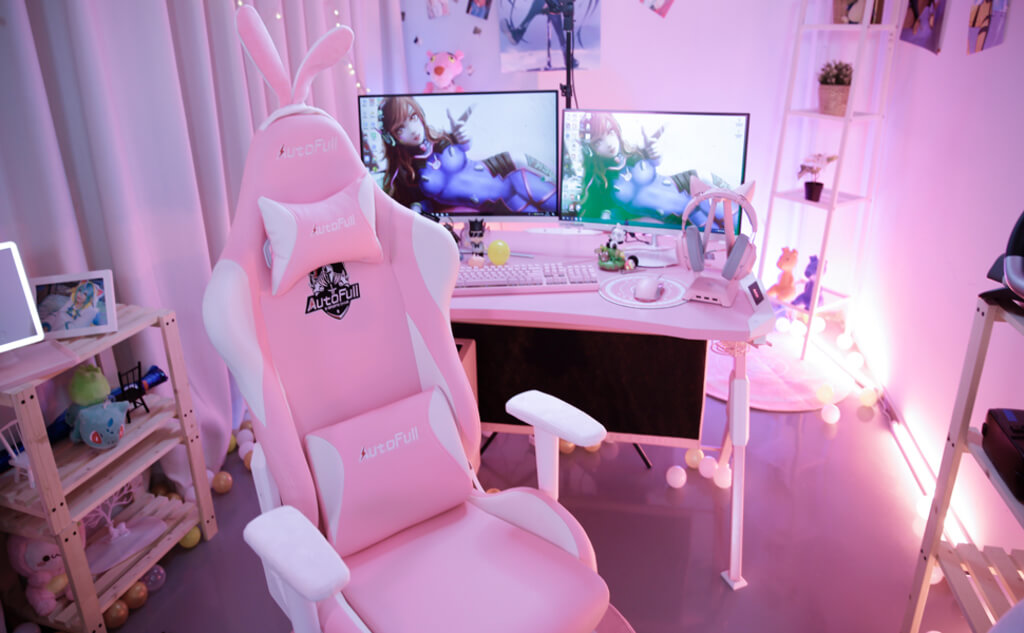 Image Source: amazon.com
#10: Futuristic Gaming Arena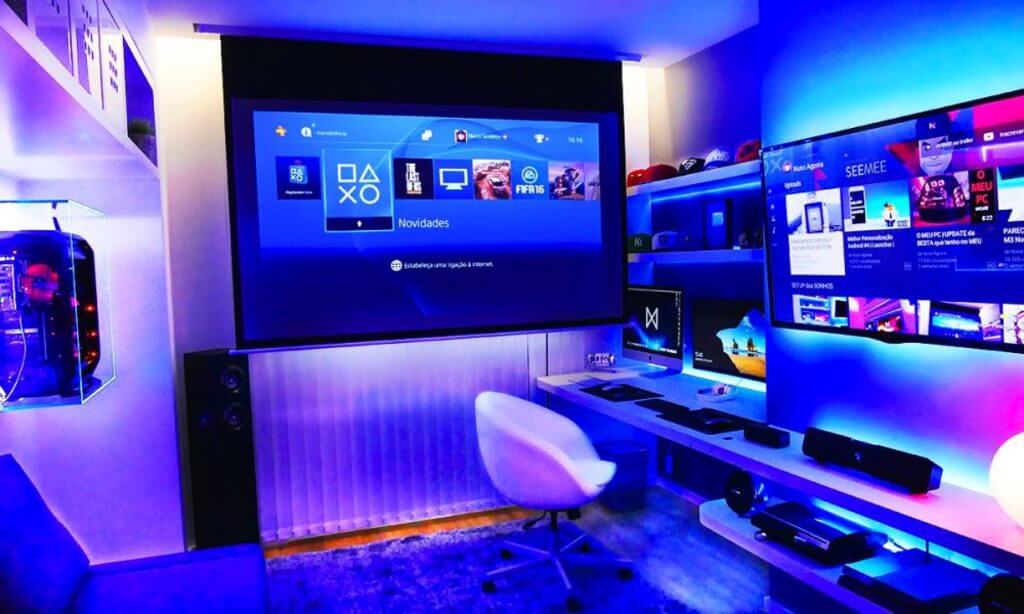 Source: gamingdebugged.com
#11: Mood Swing Suitable Setup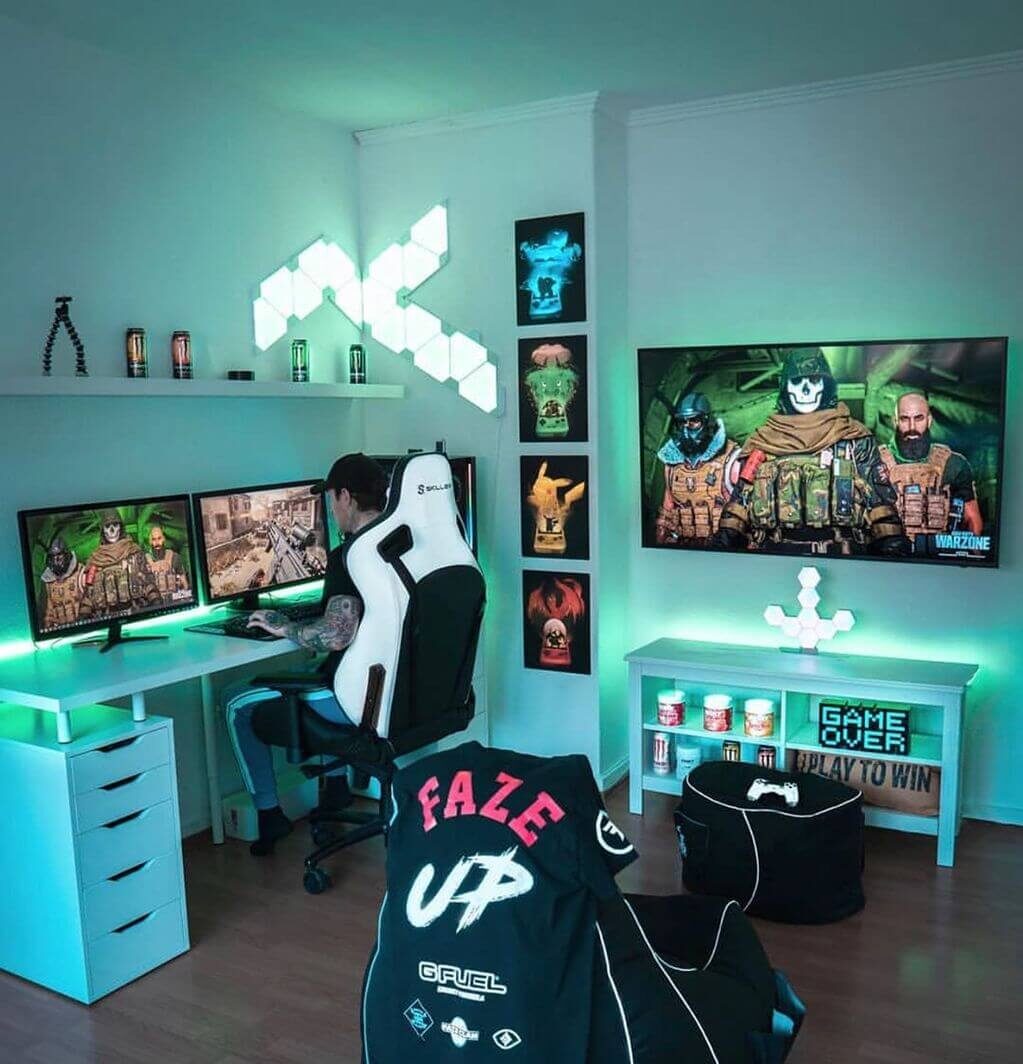 Image Source: hayko.tv
#12: A Streamer's Battle station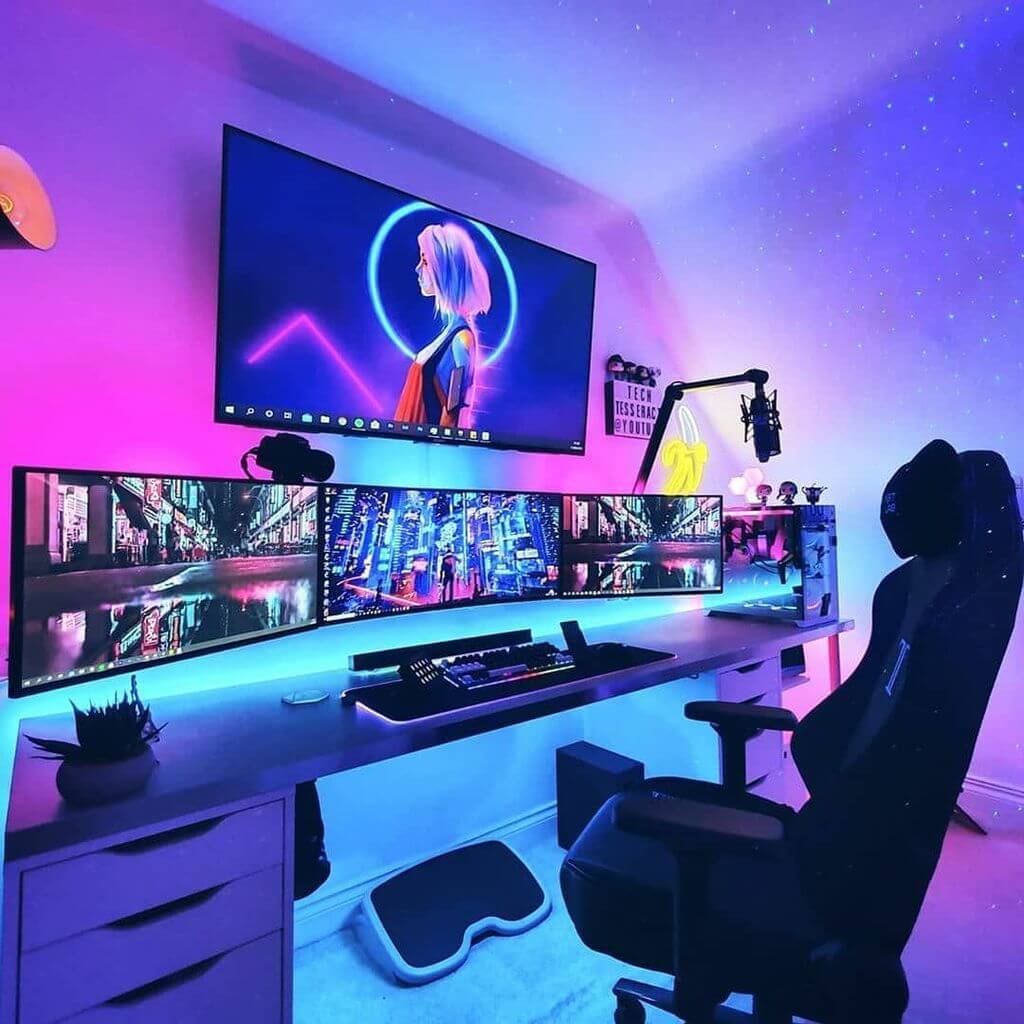 Source: pinimg.com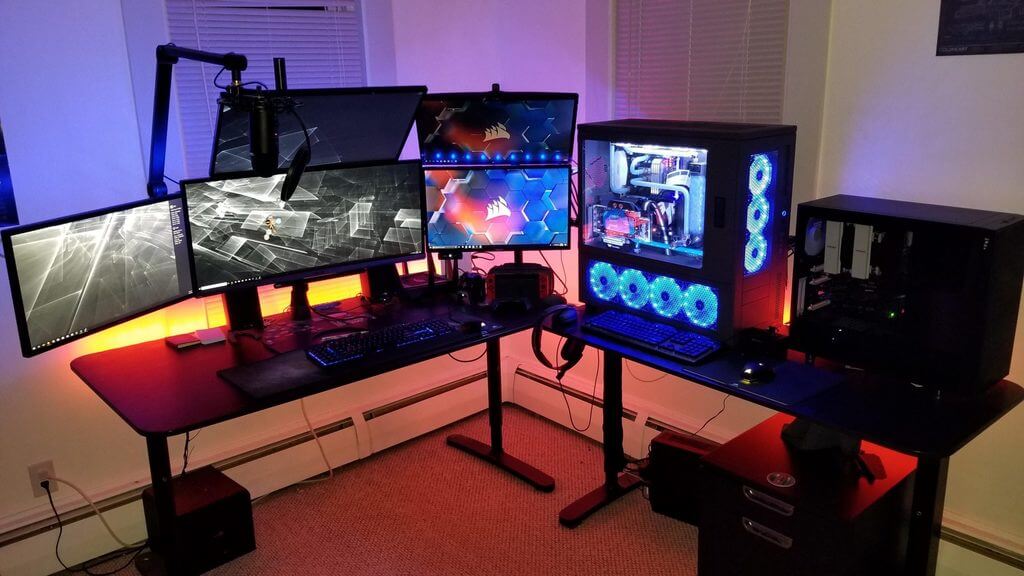 Image Source: wp.com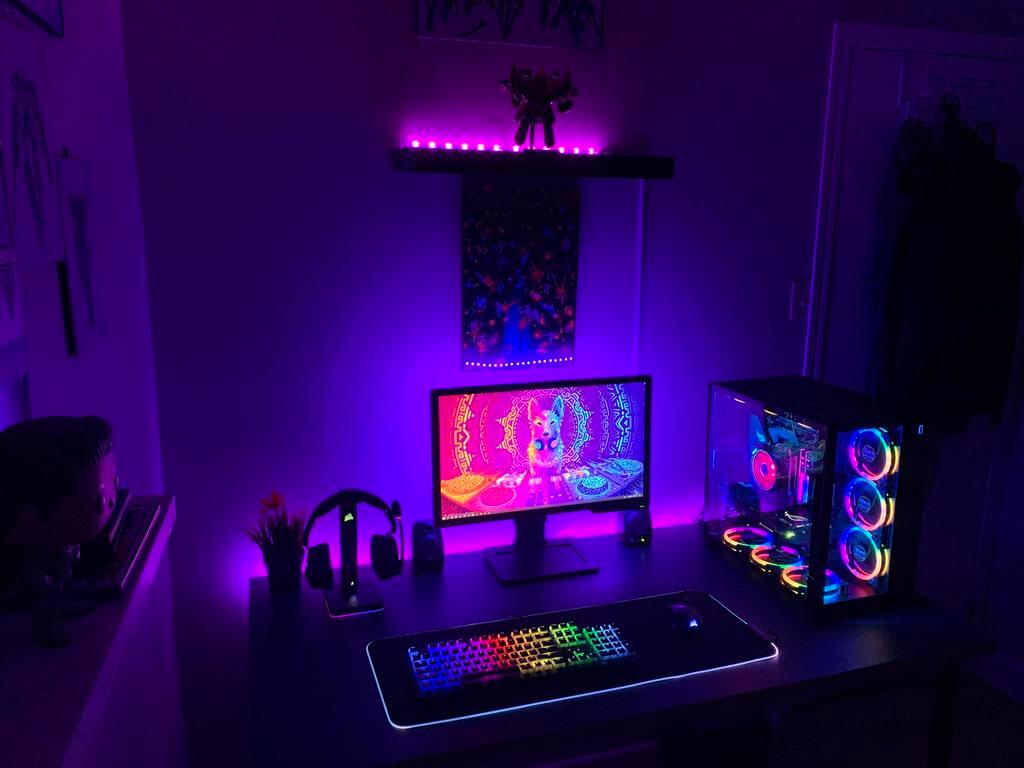 Source: redd.it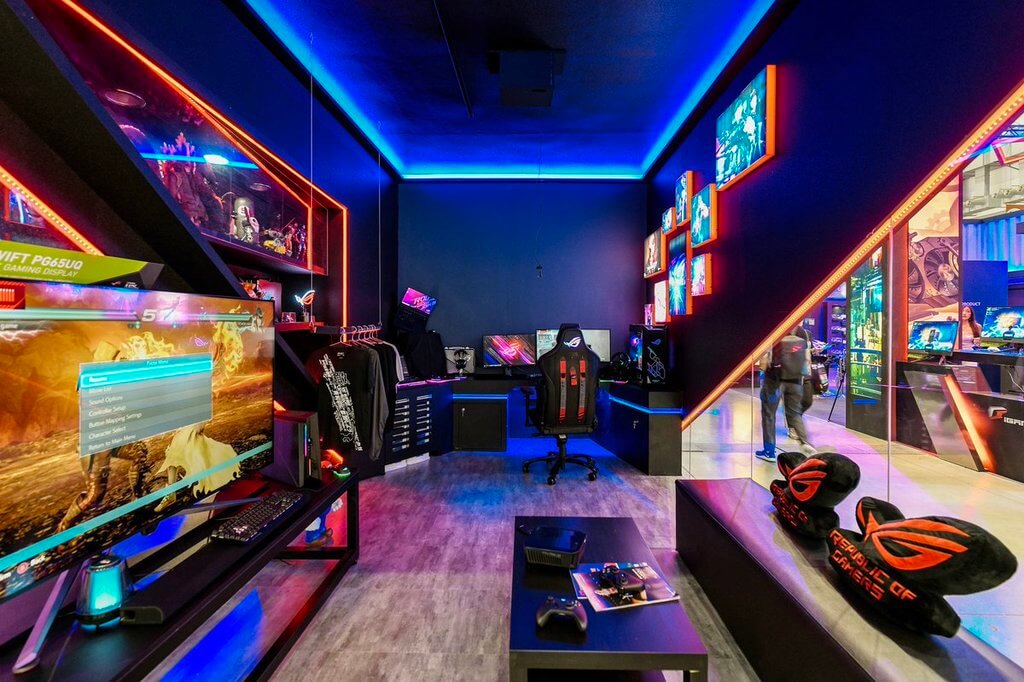 Image Source: twimg.com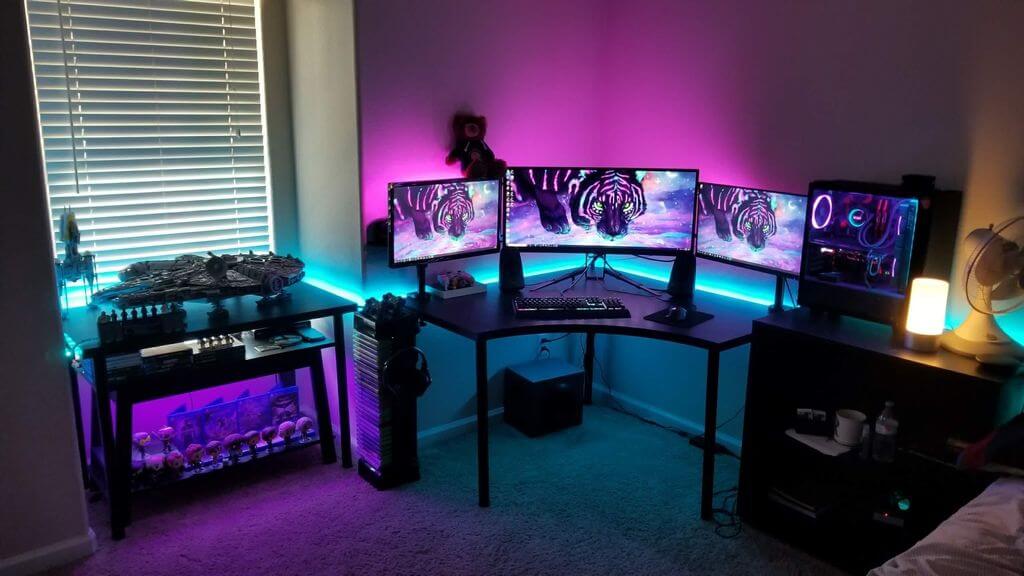 Source: pinimg.com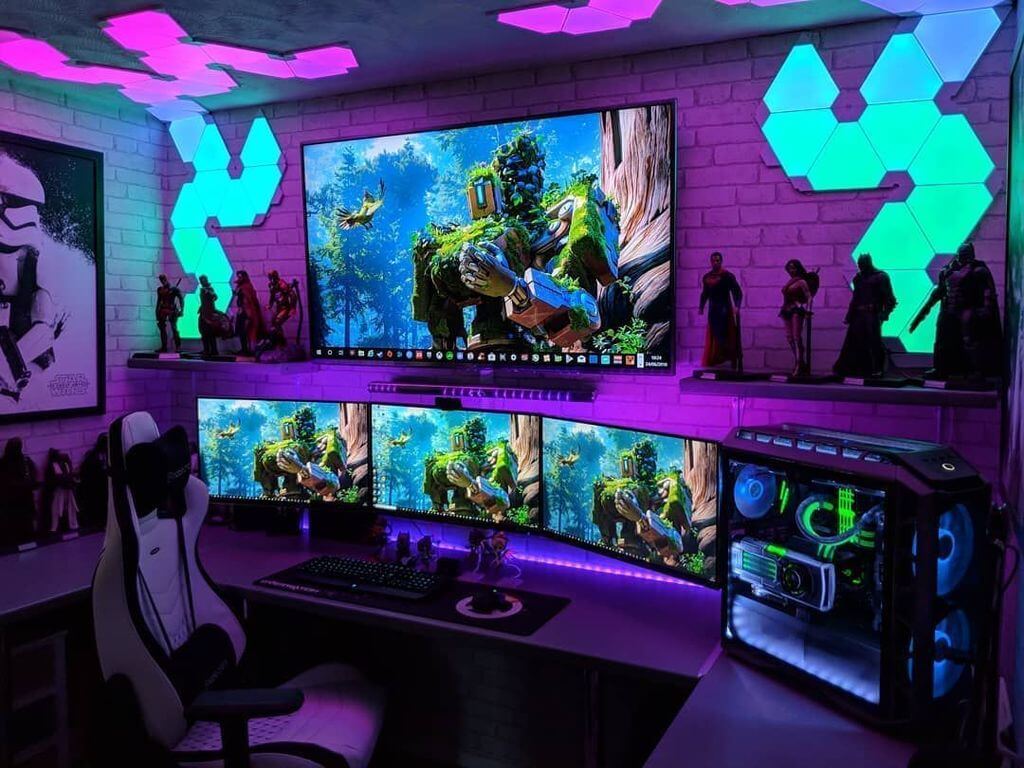 Image Source: pinimg.com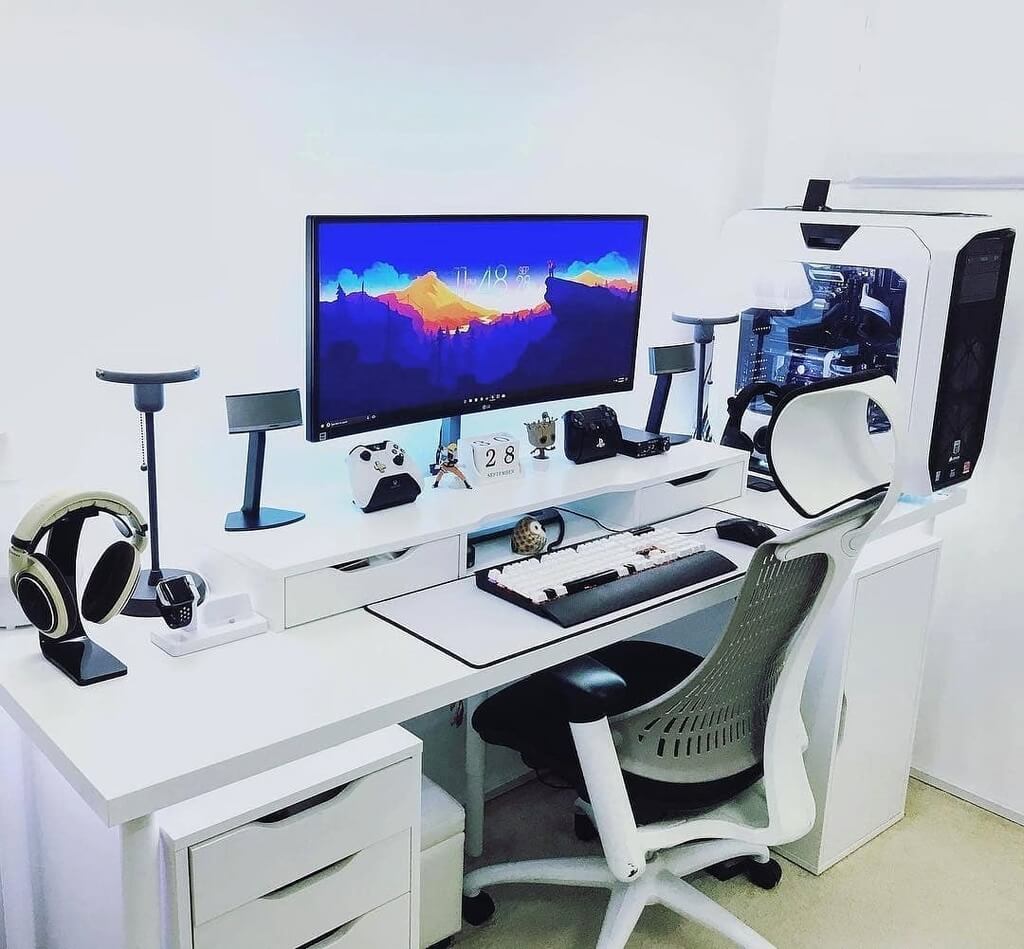 Source: standingdesktopper.com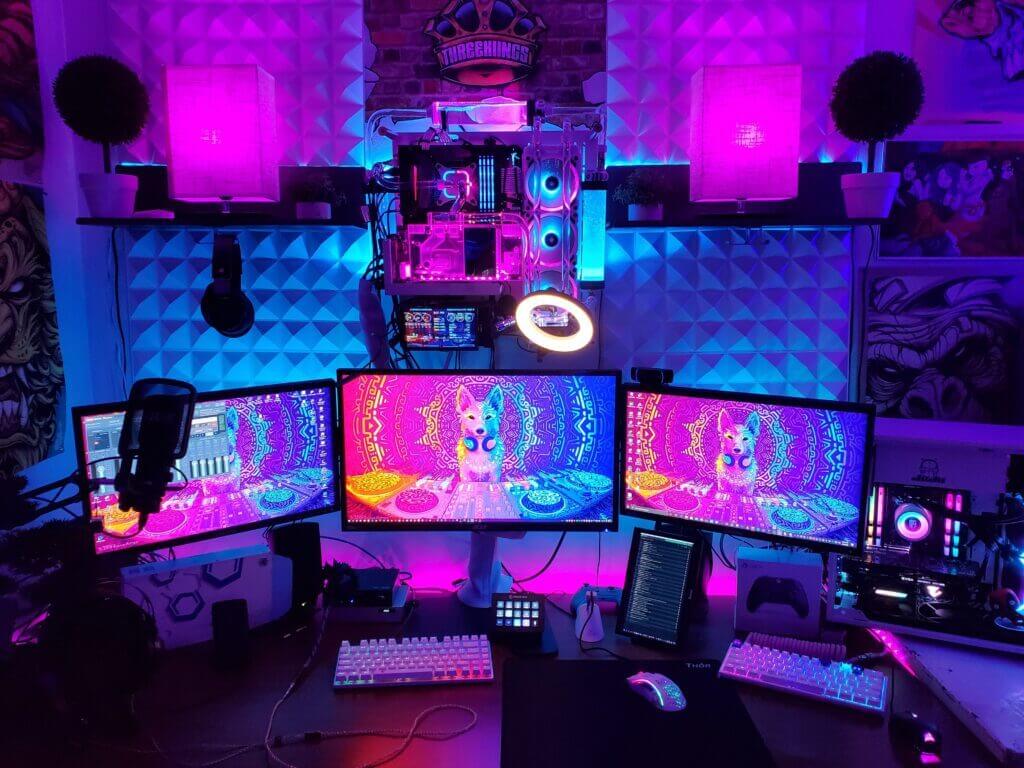 Image Source: pcmecca.com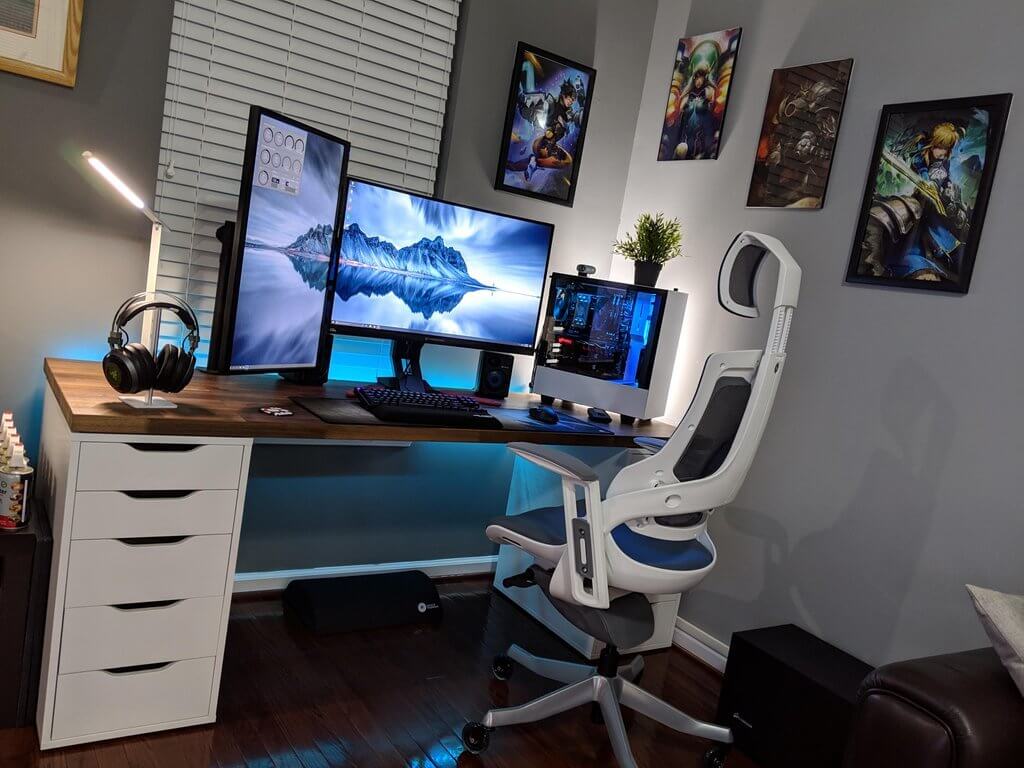 Source: unrankedsmurfs.com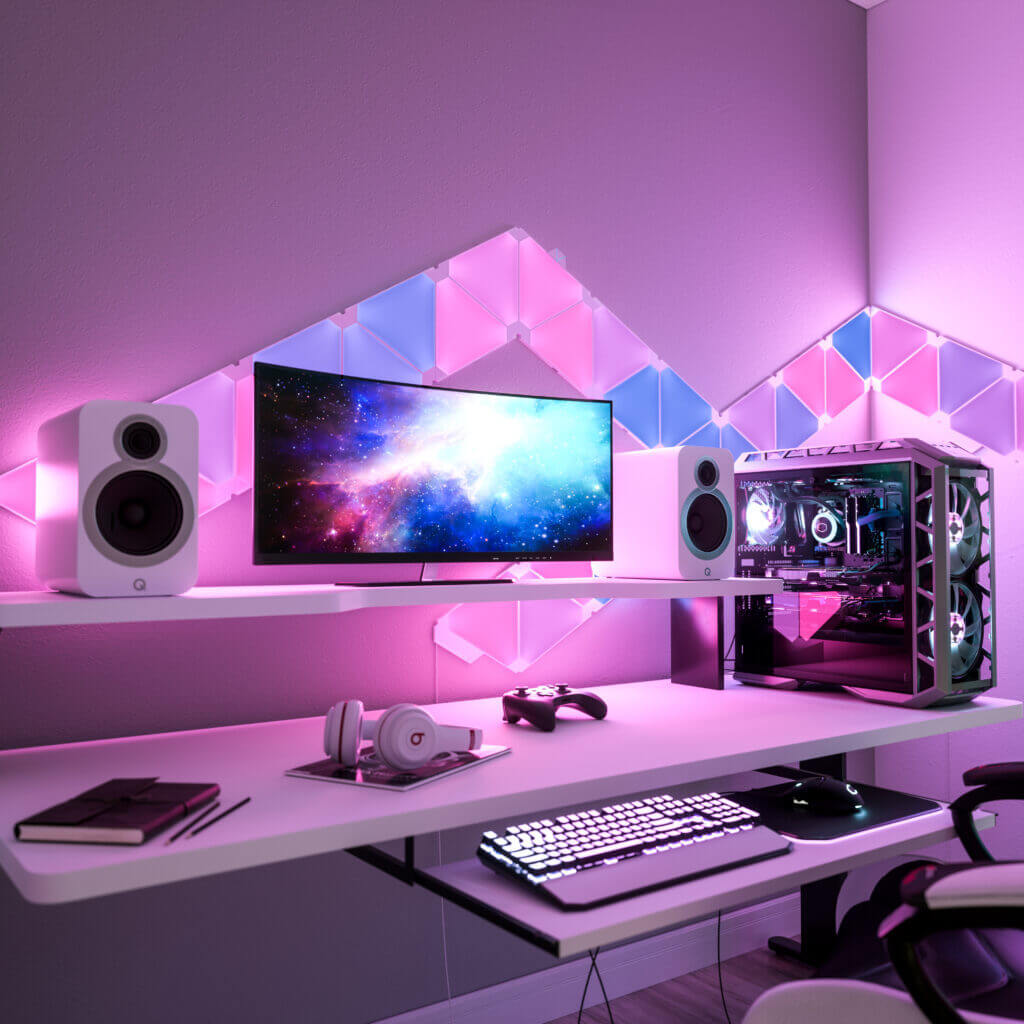 Image Source: mkaugaming.com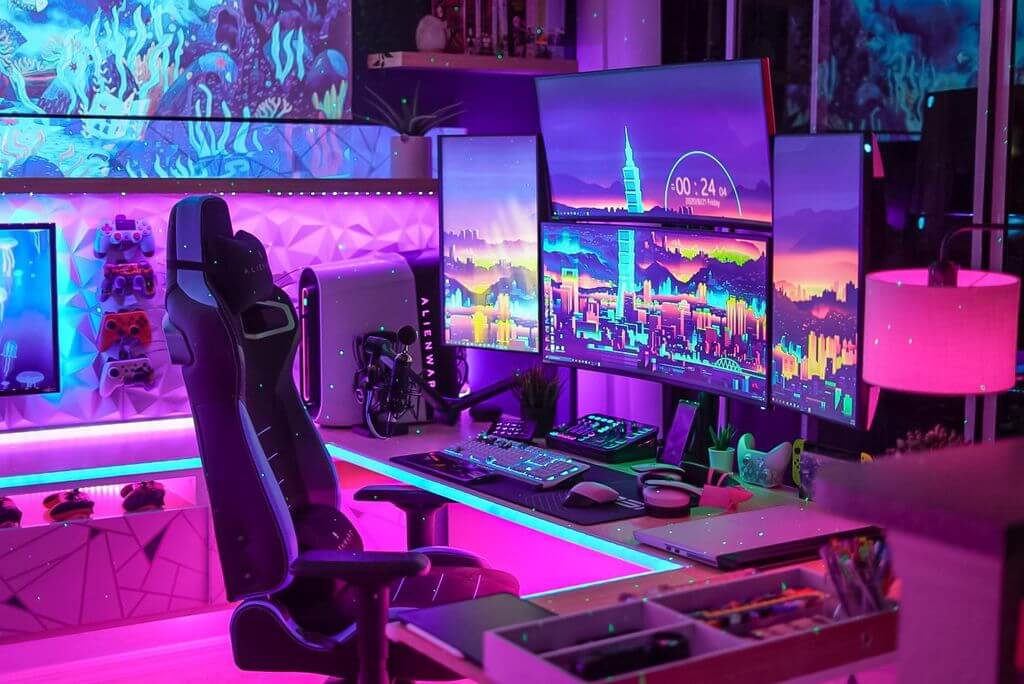 Source: pinimg.com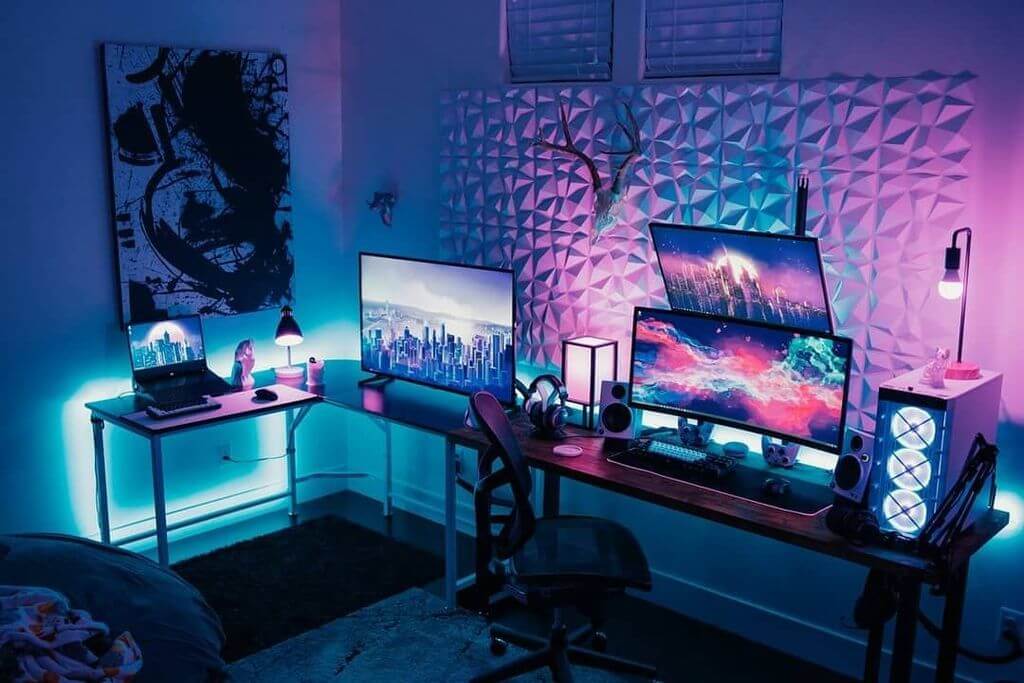 Image Source: pinimg.com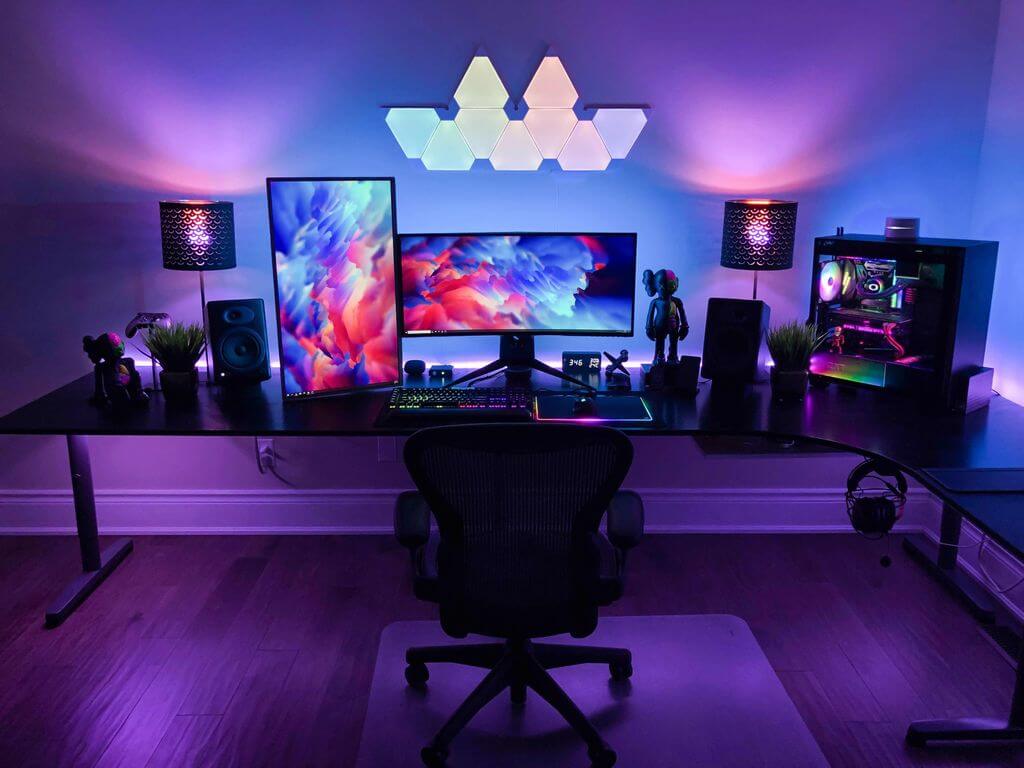 Source: pinimg.com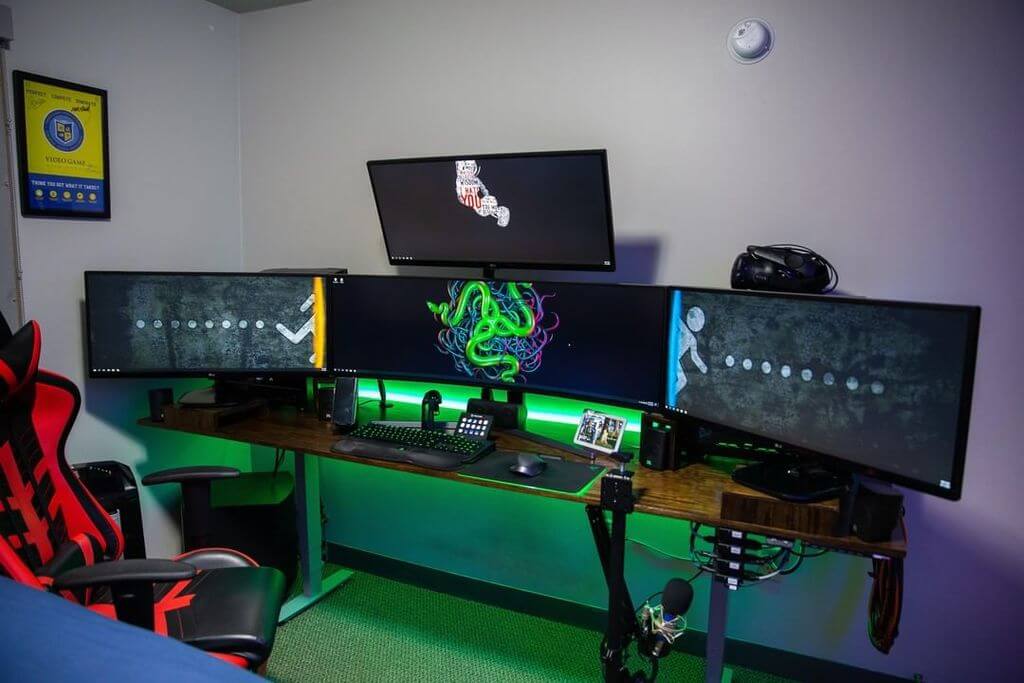 Image Source: sector.sk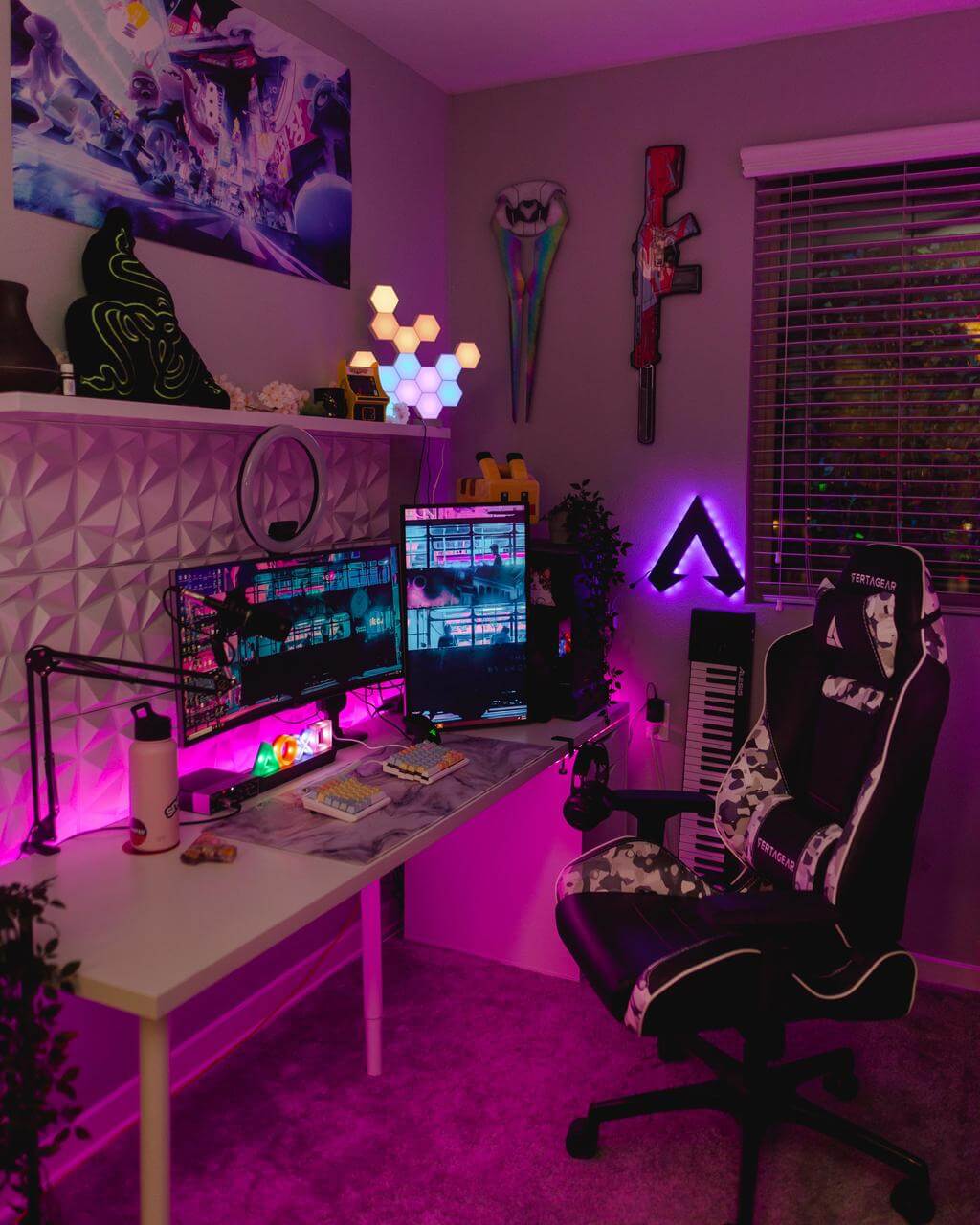 Source: redd.it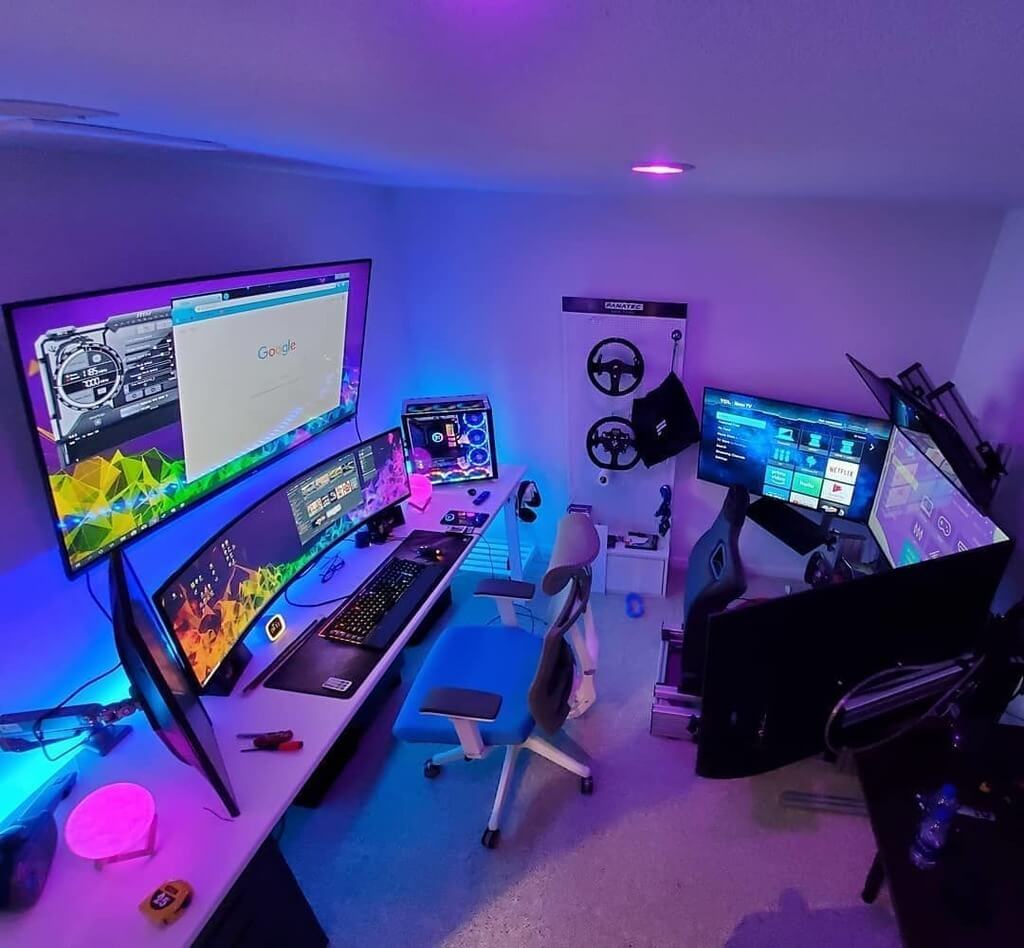 Image Source: Instagram.com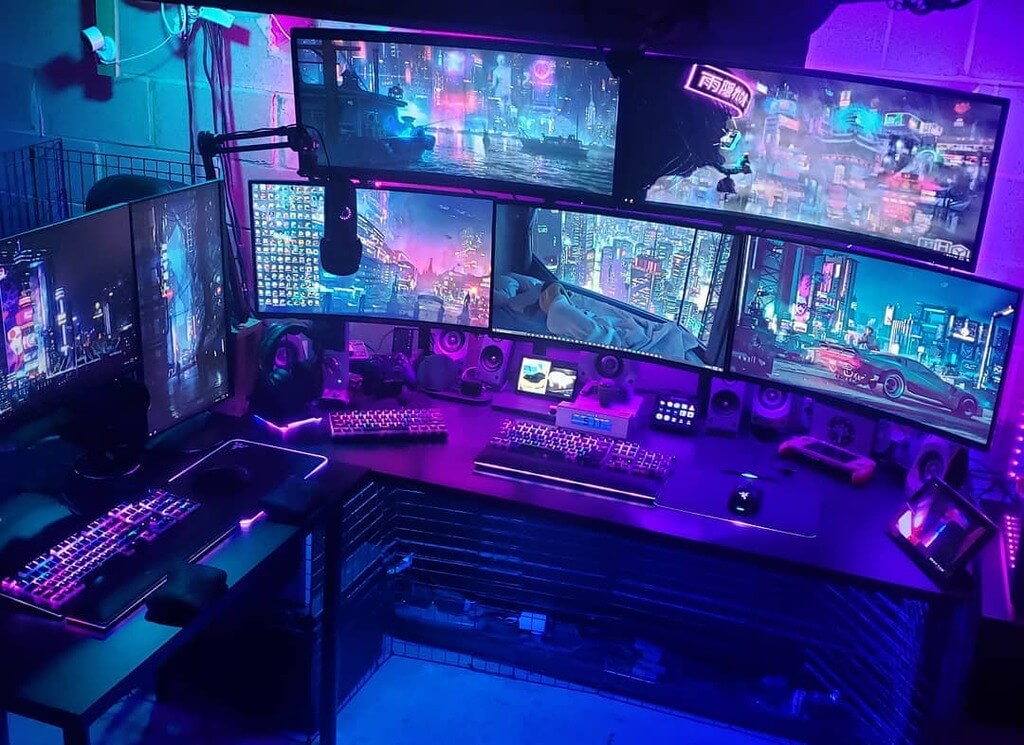 Source: Instagram.com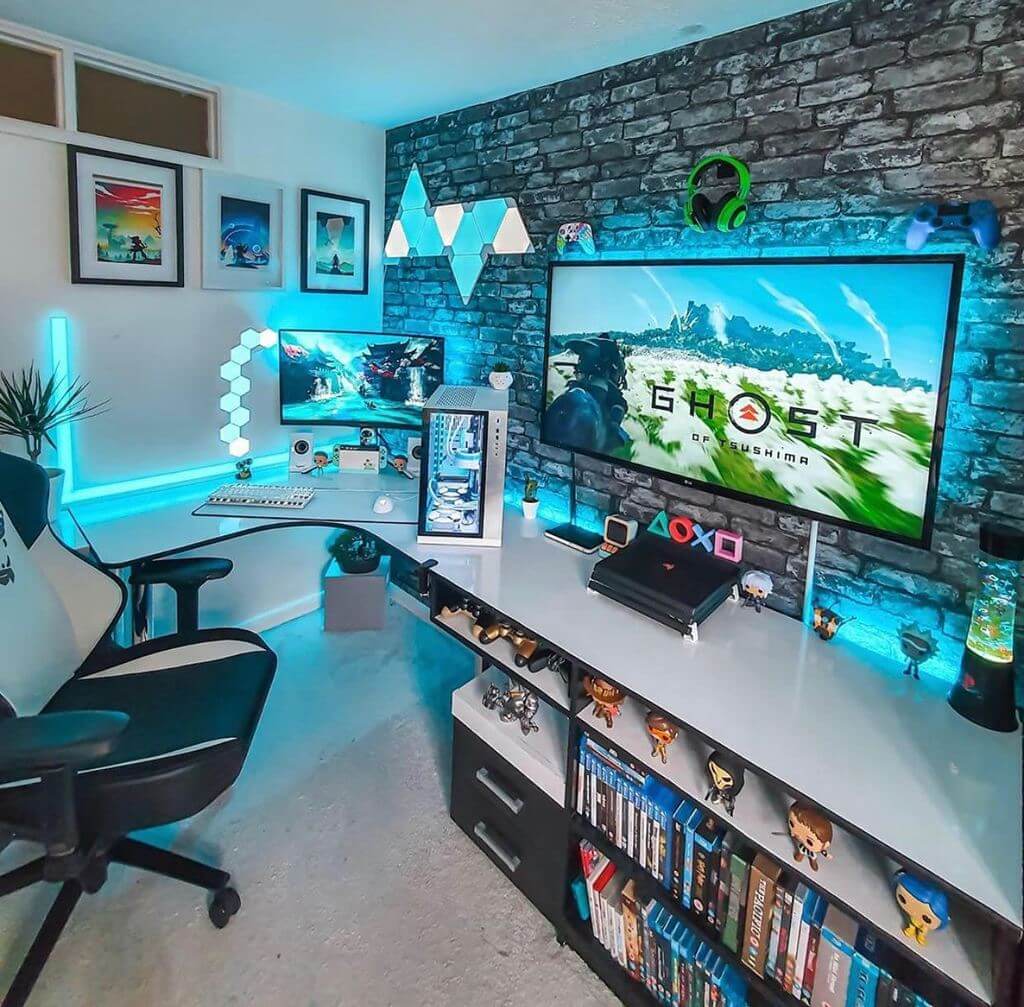 Image Source: Instagram.com
Conclusion: 
So these are the best gaming setups assembled till now by the professionals and gamers to have an amazing gaming experience. Get rolling and ask your PC maker to make you one of these. Along with the perfect and functional features you also need ideal lighting and arena to have endless sessions. It isn't necessary for you to be a gamer to have such an amazing PC setup.
For more tech-related news, information, and briefing, visit Technographx.