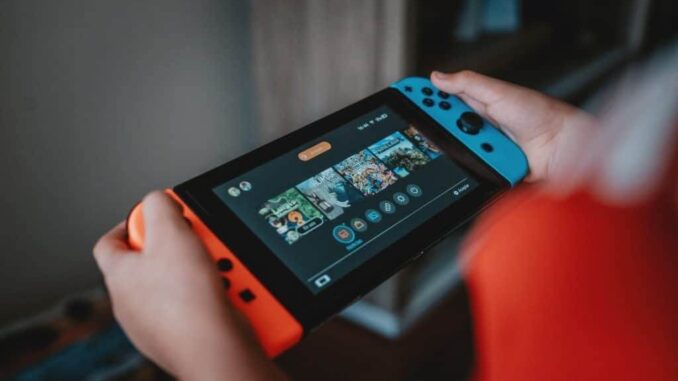 Everyone knows about Mario, but do you know about the creators that created this famous game? 
Okay, let me give you a little hint: the company that created the game Mario is one of the oldest players in the industry. They started its journey as a card and toy manufacturer brand and have a rich history of more than 125 years.
 Any guesses? It's Nintendo! 
Today, Nintendo is a renowned name in the world of games! And their latest addition Nintendo Switch is selling like hotcakes! 
According to Statista, Nintendo sold more than 8.23 million Nintendo switches worldwide in 2021!
But the question is: can you play Roblox on Nintendo Switch?
To find an answer to this, First, you need to know about Roblox.
What is Roblox?
Source: twimg.com
Roblox is a website where you can play various games online. You can play up to 20+ million games on this platform, and that too for free! You can play Roblox games from Android, iOS, Windows, Mac, or other devices. 
Unfortunately, the sad news is that you cannot play Roblox directly on Nintendo Switch as it is not available yet. But, you can play Roblox on Switch with the help of backward compatibility.
Can You Play Roblox on Nintendo Switch in 2022?
Source: pockettactics.com
The simplest answer to this question is 'No' because the game isn't launched for the Switch yet. However, as we mentioned above about the way to access Roblox on Switch, below are the steps for that. First, you have to install Android OS on the Nintendo Switch and then:
Open the browser on Switch and visit the Roblox website.

After that, sign up for a new account and download Roblox on the console.

Now, you can play Roblox games on the Switch within the browser.
Important note: If you want to play Roblox on the Nintendo Switch, you need to download and install it from the Play Store after booting Android to your Switch console.
Why is Roblox so Popular?
Source: vox-cdn.com
Roblox is very popular because they not only allow you to play and develop a game, but also you can even earn money by developing games on it; cool, isn't it?
Now, you would be wondering, if people are playing on Roblox for free, how could you earn from that? The answer is by building games on the platform. However, you don't have real money; instead, players buy and spend a currency in the game called Robux. 
After collecting a certain number of Robux, you can convert that currency into real money. And that's the reason why Roblox is world-famous among the kids and youths.
Launching Roblox for Nintendo Switch!
Source: omggamer.com
After releasing the Roblox Nintendo Switch, will it offer a better gaming experience? 
When the Nintendo Switch was first launched in 2017, it took the market by storm. It broke records, outselling the best consoles in the market. Soon, Nintendo became popular among the other gaming consoles. That is the reason why people want Roblox to get launched on the Switch.
Most gamers believe that the Switch is a perfect fit for Roblox because you can carry hundreds of thousands of games in your pocket! Yes, Nintendo Switch is so light and portable that you can have it around with ease without the need for electricity or cables, or even the internet!
Although, due to some unknown reason, the game is not available yet. However, if you want to enjoy Roblox games, you can play them on PC and mobile devices. But for now, there is no official statement by Roblox Corporation to launch Roblox on Nintendo Switch consoles.
Also Read: Roblox on now.gg.roblox: Play & Boost Your Gaming Skills
How to Play Roblox on Nintendo Switch?
Source: techemirate.com
If Roblox ever gets available on Nintendo Switch, users will first need to sign up for a Roblox account from the official website. If you already have an account, you just need to sign up for the account. 
Also, do remember your birthdate when registering for a new account, as the game comes with age restrictions.
Final Words
So, coming back to the answer to the most searched query on the internet today, you cannot officially play Roblox on Nintendo Switch because it is not available yet. However, if you still want to play Roblox on Switch, you can follow the steps given above and enjoy 20+ million games anytime and anywhere!
For more information, visit Technographx.