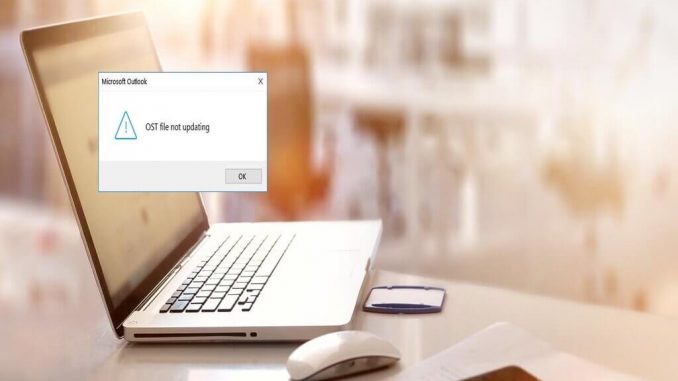 Were you trying to open an OST file in your Outlook account and getting an error, an OST file is not recognized by Outlook? This is one of the most common types of file errors faced by Outlook users. It occurs due to corruption or damage to the OST file. However, there can be other reasons as well. Windows users mostly encounter the issue, but you can also face the same issue on iOS.
Fortunately, with the help of an efficient solution such as the OST converter, the error of Outlook not recognising the OST file can be fixed in a couple of minutes. Continue reading this guide; you will learn about the possible causes of OST errors, detailed steps to fix them, and much more. So keep scrolling!
What Leads to the Error "OST File Is Not Recognized by Outlook"
Source: stellarinfo.com
As we all know, OST stands for Outlook data files used in default cached mode. This is when a user wants to work offline with an Exchange, Outlook 365, or IMAP account. These are local copies of your mailbox messages stored on your computer. Therefore, you must keep your system free from malware attacks or virus attacks to protect your OST file. Let's look at the other possible reasons for Outlook not recognizing OST files:
Synchronization Error:
Outlook automatically synchronizes its data in file format .ost including mailbox items, contacts, calendars, tasks, journals, etc. With Exchange Server accessible via the internet. An error may occur during this process, preventing synchronization, and resulting in OST file errors.
Multiple Users Access at Once:
The other reason the OST file is not recognized by the Outlook account is multiple users are trying to access the same file at once.
Faulty Outlook Updates:
Sometimes, the issue is not with the OST file but instead with the Outlook account or application installed. The OST file error may also occur if Outlook is abruptly terminated.
Orphan OST File:
This is a rare case where your Exchange account is deleted, and the OST file becomes orphaned. 
Gain Access to OST File Once Again in Outlook – Error Outlook Not Recognising OST File Resolved
There are multiple manual & automated ways to overcome the error of OST files not recognized by Outlook. However, we suggest you try the Stellar converter for OST. It outperforms all manual solutions when it comes to fixing OST file issues. This OST to PST Converter software is ranked #no.1 on various technical review sites and has received 5-star ratings for its performance and ease of use. We will explain more about the software in the following section. Firstly, let's look at the simplified process of regaining access to OST files using software solutions. 
Just 5 Steps to Fix OST File Non-Recognition in MS Outlook
If your Outlook account refuses to recognise the OST file, try a professional Stellar converter for OST. Download & install it on your Windows system and perform the following steps:
1. Click on select Outlook OST in the top ribbon following a pop-up to choose an OST file manually from the system.
Source: stellarinfo.com
2. Here, all the OST files stored at the default location appear in the list. Select the OST file not recognised by Outlook and hit the convert button.
Source: stellarinfo.com
3. OST converter performs live conversion for users. Once completed, users can view Outlook mailbox items in the left panel, and red items are deleted.
Source: stellarinfo.com
4. Click on the Outlook mailbox item to preview it in the panel. Click on the S save C converted F file option in the home screen ribbon to save the accessed OST file in the desired format the software provides.
Source: stellarinfo.com
5. Click on Browse to set a location for the converted file on your system, and click OK. 
Source: stellarinfo.com

Also Read: PDF vs Word Resumes? Pick the Best Format Type to Save
The Distinguishing Characteristics of the OST Converter Solution 
Source: stellarinfo.com
When fixing the error of OST not recognized by Outlook with the Stellar Converter for OST, users will find many other options to simplify the task. Let's know about them in detail:
1 Automatic/manual OST File Selection:
An OST file can be selected automatically or manually in the software panel using a professional software solution to fix OST files unrecognizable in Outlook. Either way, the OST file can be retrieved automatically from the default location. Alternatively, a manual process can be used to choose the OST file for fixing the problem.
2. An Opportunity to View Outlook Items:
When OST conversion is achieved by the user, the software lists all Outlook items in the panel. Users can preview the item's information by clicking on it. Also, they can view deleted items highlighted in red.
Various Parameters to Search Messages:Users will find a find message option in the home screen ribbon. It can be used in the case when users need to search for an email or group. They need to specify the parameters, such as to, from, date, subject, etc., to accomplish the task and save them in provided file formats.
Advance Search5+ File Saving Options:Various parameters to search messages: Users will find a find message option in the home screen ribbon. Users can use it to search for emails or groups. They need to specify parameters such as to, from, date, subject, etc. Obtain the files and save them in the provided formats.
There Are 5+ File Saving Options: The software allows users to save the converted items in a variety of formats. The options include PST, MSG, HTML, PDF, RTF, EML, etc.
Make Use of Filters: Once you have selected the location to save the resultant file on the system, the software offers an advanced filter option. It has various helpful categories, such as including or excluding mail items based on email id or date range and more. The item files can be sorted and organized using this feature.
The Bottom Line
Outlook users encounter several OST file issues. There is a detailed explanation of the most common error, an OST file not recognized by Outlook, and the best solution to fix it in the above guide. We hope the above solution helps you access your OST file in Outlook. Users can also take a trial of the free download option for Stellar Converter for OST to fix the OST file error issues.