There are various issues we face with our computer in daily life. These issues range from commonly occurring problems to long-lasting rare problems. Today, we are going to discuss one such problem, that is DNS Server not responding. DNS Server not responding is a common problem faced by many users on Windows 10.
DNS server is a server that helps us reach any website online. It converts the name of the server to the respective IP address so that we can reach that server. This was introduced because humans cannot remember long-range numbers and computers, as we know, work on numbers only. If we want to browse or open any website over the internet, we need to access the DNS server to map the name with the corresponding IP address. 
There are various solutions to this problem. In this article, we will see a few of those solutions. These solutions vary from device to device and hence, may not work for all. Following is the list of possible solutions that will help us in resolving the problem. 
1. Manually Changing the DNS Server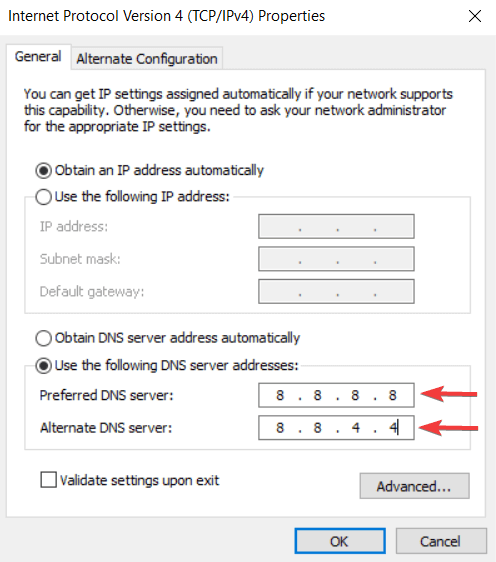 Source: productkeysdl.com
Sometimes, when we connect to the internet and want to visit a website, our ISP, by default, will allocate a DNS server to us. If the DNS server is not available or reachable, then this issue can occur. Here, we will try to fix this by changing the DNS server by setting it as Google DNS. We can also set it as an OpenDNS. Follow the steps mentioned here to do the same. 
First of all, press the Windows button along with X. This will make some of the options pop on the bottom left of your screen. Now, from this list, select the option that says "Network Connections"

Locate your connected network and right-click on it followed by clicking the properties. Inside the properties section, there will be a tab named networking. Inside this Networking tab, select the TCP/IPv4 (Internet Protocol Version 4). It is nothing but an Internet protocol used to send messages securely. Select it and click on the properties. 

Enter the following IP address inside the mentioned slot. 
For Preferred DNS Server: Make sure you enter 8.8.8.8
For Alternate DNS Server: Make sure you enter 8.8.4.4
After finishing the above procedure, click on Ok to save and apply your changes. Now, reconnect to the internet. 

Check and see if the problem is resolved or it persists. You need to be aware that by manually selecting the DNS server, it may be possible that sometimes the connection established is slow compared to your regular one. This is because of the variation in location, and hence, you can try some other DNS server IP Address and see if it solves the speed issue or not.
2. Manually Entering the MAC Address
Source: windowsreport.com
Sometimes, the issue can be resolved by getting the network adapter's MAC Address and entering it manually. You may be thinking that how will we know the MAC address of the network adapter. You need not worry as we have included that in our solution.
To begin with, press Windows along with X and it will make some options appear on the bottom left of your screen. Here, select Command prompt with Admin. 

Inside this command prompt, you need to enter the following command: "

ipconfig/all"

There will be a list of various addresses and information. From this list, select the address which says "Physical address"

Now you have known the physical address, note it down and close the dialogue box. Now we will proceed to enter the address manually. 

Open the "Network Connections" window just as we did previously. Inside his, there will be a button named Configure. Click on it and proceed to the advanced tab inside. 

Inside this Advanced tab, locate Network address. This will be available inside the Property section. 

On the right of the dialogue box, there will be a box where you need to type the Value. Type the value that we noted before. Do not include any dashes from the address. 

Click on Ok to apply your changes. This solution is one of the most optimal solutions to fix this problem. This solution works, along with the previous one, resolves the issue most of the time. 
3. Clearing the DNS Cache
Source: cs.o2o.my
Sometimes, clearing the DNS cache helps us in resolving the issue. Follow the steps mentioned below to see if it works for you or not. 
Press Windows along with X. This will make a few options available on the bottom left of your screen. Here, you need to select the option that says "Command Prompt (Admin)".

Inside the command prompt, enter the commands mentioned below. This will make help in clearing the DNS cache. 
ipconfig/ flushdns
ipconfig/ registerdns
ipconfig /release
ipconfig /renew
This will ensure proper clearing and flushing of DNS Cache. Check and see if the problem is resolved or not.
Also Read: Ethernet Unidentified Network Issue: Solve It Today with 7 Simple Solutions
4. Microsoft Virtual Wi-Fi Miniport Adapter
Source: pureinfotech.com
Sometimes, it has been observed that the Microsoft Virtual Wi-Fi adapter causes this issue. You can fix it by simply disabling this adapter. Open the Device Manager and inside it, locate "Network Adapters". Inside this, if the "Microsoft Virtual Wi-Fi Miniport" is enabled, right-click on it and disable it. Check if the problem is resolved or not. 
5. Disabling the Anti-virus Software along with Firewall
Source: linksys.com
Source: networksolutions.com
Anti-virus software often protects our devices from many things. In doing so, they interfere with the network connections and hence, can cause trouble. You can go to the Update and Security option inside the Control panel and locate Windows Security. Here, inside, you need to deactivate the firewall. After disabling, check whether the issue is resolved or not.
This was all about the DNS Server Not Responding. The problem is critical and often impacts our daily activities. There are many causes of these problems and the solution is also not unique. Hence, it varies from device to device. We hope that this article has served its purpose and will help you in solving the issue if faced anytime!
For more information, visit Technographx.