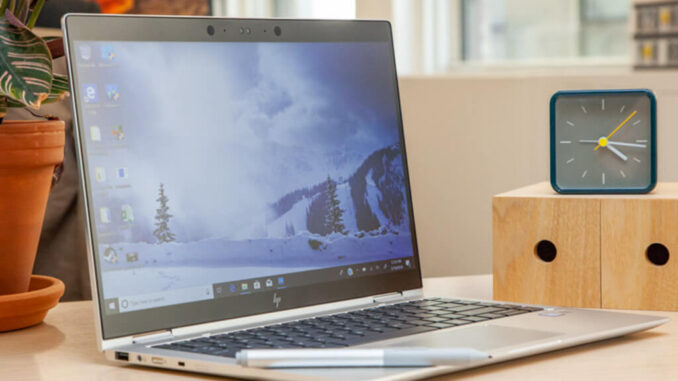 What are the basic requirements when you need the best laptop for coding? Well, here is the answer to your dilemma. While choosing a laptop for coding, you need to tick off a lot of specifications. Starting from a powerful CPU, good storage, high-speed performance to a great display and comfortable keyboard, you need to have it all. And everything must fit into your budget as well. You are wondering how to keep track of so many things? Here is the list of the 5 best laptop for programming available in the market in 2023 that will make your task easier.
HP Spectre x360
Source: pcmag.com
So far, this is one of the best laptops HP has made. This latest and updated convertible laptop has a powered-up CPU that will suit all your programming needs. It is one of the best programming laptops available in the market.
Pros
Stylish and Amazing Finish
This laptop's ultralight and sleek design makes it easy to carry around and gives it a stylish look. You can easily swap from laptop to tablet modes using the terrific 360-degree hinge. 
Inbuilt Security Features
This laptop provides some exceptional built-in security features. You will not need anything more than a few Windows Defender scans to power-pack your system's security. 
Great Performance
This laptop is packed with great hardware in a splendid sleek design. The powerful Intel Core i7-1065G7 CPU, Iris Plus integrated graphics, and humongous amount of RAM makes it run smoother than butter. 
Cons
Battery Power Not Up to the Mark
If you are running heavy programs, you are prone to disappointment as the battery may not be supportive. Power lasts lower than other laptops in this range, but with this design, unfortunately, battery power is quite difficult to maintain.
Too Expensive
Of course, all these amazing features will come at a great price. So, money is a drawback when it comes to this programming laptop.
Buyer's Guide
HP Spectre x360 comes with an excellent metallic finish and a slender design. It is easy to carry and handle. You can quickly switch between the laptop and the touch screen tablet mode hassle-free. Amidst this amazing design, it comes packed with a 1.3GHz Intel Core i7-1065G7 CPU, which makes your coding journey a cakewalk.
It comes with 16 GB RAM, and Intel Iris Plus integrated graphics. The high-speed performance and amazingly designed backlit keyboard make this laptop a must-have for all programmers. The storage capacity starts from 256 GB to 2 TB SSD.
Although this laptop is great for coding, this isn't a gaming laptop. Due to a lack of specific graphic cards, some heavy games may be out of your way altogether. While everything is perfect about this laptop, the temperature might rise while you run heavy tasks on this 2 in 1 device.
The lack of sufficient battery power is another drawback as higher intensity tasks might reduce the battery life to 4 hours. Standard use still means the battery will last at least 10 hours. But with this design and performance, it is impossible to have a battery life more than this.
Conclusion
So, if you want a laptop for programming at lighting speed and a smooth coding experience, then HP Spectre x360 might be a great option for you. The battery life is manageable, but all these amazing features might burn a hole in your pocket. So, if your budget is on the upper limit, then this is a must-have for sure.
Lenovo Thinkpad X1 Extreme
Source: futurecdn.net
With an Extreme in its name, this laptop justifies its worth with its features. It is a power-packed laptop beautifully carved out and designed. The robust and magnificent characteristics of this laptop are jaw-dropping.
Pros
It has a glorious 4K screen which makes your screen alive.

There is too much power enclosed in beautiful carbon fibre and aluminum.

It gives you a great user experience and makes your coding journey heavenly.
Cons
Although the design is typical, it is a bit heavy and might be difficult to handle.

This laptop is too expensive. Considering the features it is packed with, most people overlook the price and still go for it.

Battery life is yet another drawback.
Buyer's Guide
The ThinkPad makers believe more in the internal robust than external show off. So, not much has changed when we look at the design of the laptop. It has got a typical corporate look and great power-packed within. The laptop's weight at around 1.84 mg makes it difficult to carry it in one hand and handle it smoothly at the workplace.
The combination of an 8th-generation Intel Core i7 CPU with an Nvidia Max-Q GPU is what makes this laptop stand out. It has a RAM of about 32 GB to 64 GB. The storage capacity can climb up to 1 TB SSD. Those graphics and RAM make it ideal for coding, programming, and most typical office tasks.
The screen resolution is unsuitable for high-resolution games where the graphics of the ThinkPad shows a downside. Still, many high-level games can run smoothly on this laptop. The battery life suffers because of high-level graphics and core features.  
Conclusion
Lenovo ThinkPad X1 Extreme has magnificent specifications which can replace desktops at any workstation. The high-level internal hardware features of this device overshadow its high price range. The carbon fibre and aluminum exterior make this laptop tough and ready to face any corporate or office setting. It is one of the best laptops for coding available in the 2023 technological market. 
HP EliteBook x360 1040 G5 2-in-1
Source: futurecdn.net
HP Elitebook x360 is one of the best laptops for programming professionals. There are some flaws, but the captivating features of this laptop can easily overlook these flaws. The charismatic design and excellent features it carries makes it perfect for the business and IT world. Everything starting from design, the ports' arrangement, and audio make it ideal for office work and business deals. 
Pros
Breath-Taking Design and Looks
The laptop comes in silver and has one of the finest edges beautifully carved, which gives it a stylish look. It is super thin and lightweight, which is easy to carry and handle.
Superb Performance and Exceptionally Fast SSD
The Elitebook specifications give it great performance features, and the SSD is fast enough to make any programmer satisfied.
A Large Number of Ports
This Elitebook is thin, yet a large number of ports are attached to it.
Cons 
Battery Performance Not Satisfactory
With all its power-packed performances, the battery is not up to the mark. The battery lasts at most 7 hours in case of intense activity usage.
Noisy Under Load
When the CPU load increases, the CPU tries to cool by an active fan that is too loud.
Buyer's Guide
HP Elitebook x360 is a convertible laptop that is silver in color with an aluminum chassis. The design has a perfect satin finish, perfectly aligned curves, and delicately designed edges. It is light and slender yet has many ports that make it stand out among other business laptops. It has an Intel Core i7-8650U quad-core 1.9GHz (4.2GHz Turbo) CPU and Intel UHD Graphics 620. With a RAM of 16 GB, the storage capacity is 512 GB SSD.
The display of EliteBook x360 1040 G5 is highly desirable as other people won't see anything on your screen. This feature is quite easy to activate, simply with an F2 button click. This laptop has a MIL-STD 810G certification which implies that it has undergone several resistance tests and is completely safe.
The backlit keyboard is also spill-proof which is quite good news for coders and programmers. The battery life is not up to the mark with up to 7 hours of intense work. The audio system is exceptionally well considering the genre of business laptops.
Conclusion
Elitebook by HP is stylish and classy, which can be used by business professionals and programmers. The high performance, good audio system, and a humongous number of ports make it one of the best laptops for coding and programming. Few disadvantages are there, like a poor battery, a noise under load, and an uneven anti-glare display. But overall, this laptop is one of the best laptops for programming in the technological market in 2023. 
MacBook Pro
Source: techcrunch.com
If you are developing software for macOS, this one is probably the best laptop for programming it. This Macbook is exceptionally fast and suits well to your programming needs with its powerful processor and humongous RAM. 
Pros 
Larger SSD capacity makes it super fast yet high on storage to run all your programs smoothly.

It comes with a great new keyboard that has improved from the previous models.
Cons
Though it promised to be much better, it still comes with the same old 8th Gen intel CPU. 

It is too expensive.

You get only Thunderbolt 3 ports.
Buyer's Guide
The design of the MacBook Pro is pretty amazing. It comes in a Silver or Space Gray color. It is slightly thicker and heavier than the previous MacBook models. Also, it comes with 2-4 thunderbolt 3 ports, and an audio jack.
Lack of ports may be troublesome for professionals, and they may need to use external adapters. The new magic keyboard that comes with this laptop provides a smooth typing experience to its users. A touch bar present just above the keyboard provides great access to tools quickly.
This MacBook has a great performance display with a 2.0GHz Intel Core i5 CPU and Intel Iris Plus Graphics. The RAM might range from 16 to 64 GB, and the SSD comes with a 2 TB capacity. 
The performance of the MacBook is remarkable, and the battery life is considered acceptable. 
Conclusion

 
If you are someone who believes in multitasking, then this MacBook is for you. This MacBook also comes with great battery life and can last for even a day with moderate usage. Although it had some amazing features, it comes with a price. So, although it is one of the best laptops for programming, it can burn a hole in your pocket for sure. 
LG Gram 17 
Source: idgesg.net
LG Gram 17 is the most lightweight 17-inch laptop available in the market. So, if you want a laptop with a wide display, so light that you can carry it anywhere, then LG Gram 17 is just perfect for you.
Not only this, the large array of ports and robust hardware make it one of the best laptops for programming in 2023.
Pros
Astonishingly Lightweight
With a 17 inch display, it weighs only around 2.98 lbs which is extremely light compared to other laptops in this range.
Superb Typing Experience
Typing on the LG Gram 17 keyboard is quite a heavenly experience. It provides a quiet and comfortable typing experience without hindering your accuracy. So, if you are a coder, then LG Gram 17 might prove heavenly for your coding experience.
Great Display
The 17-inch, 2,560 x 1,600 display is giant, vibrant, and a treat to your eyes.
Long Battery Life
LG Gram 17 has amazing battery life.
Cons
Expensive
With great features comes a great price. LG Gram 17 might be a bit tight on your budget.
Not So Good Speakers
The speakers are quite pathetic; with almost no bass and loud noise, it's better to pair the laptop up with headphones.
Buyer's Guide
The 17-inch display of LG Gram 17 doesn't mean that it is heavy and bulky.
On the contrary, it weighs around 2.98 lbs and is just 0.7 inches thick. It is one of the rarest laptops packed with a Core i7 processor, 16GB of RAM and 1TB of SSD storage, and 1600p display and still weighs negligibly.
The lightweight cooling solution incorporated in this laptop might create an obstacle in multitasking and doing intense tasks. The display of LG Gram 17 is amazing, and the keyboard is extremely flexible and easy to operate. The only drawback is with increased flexibility comes an increased risk of trauma.
Conclusion
LG Gram 17 gives you an amazing display with a great typing experience. It is one of the best laptops for programming in its range. With extremely lightweight, it is easy to carry around and handle with ease. So, if you have a great budget and want a wide and beautiful display, then LG Gram 17 is perfect for you. 
Also Read: 7 Best Business Laptop For Work From Home
What to Look For?
Source: dtcn.com
Programming sometimes requires something more than a basic laptop. While a basic laptop can be good for coding, trying out the programs and games you have made might require an advanced laptop. So, selecting a laptop with a good multi-core processor and surplus RAM might serve your purpose.
A bigger display is also a plus point when it comes to a programming laptop. It makes the coding process easier and clearly visible. For coding complex programs, look for at least 8 GB and ideally 16 GB of RAM; also, make sure that your laptop has a minimum of an Intel Core i5 processor. Having that amount of power will make your coding experience smooth.
Graphics' requirement depends on a lot of stuff like the program you are developing, the kind of applications you need to run on your laptop, and so on. So, look for decent Graphics before choosing a laptop. 
Apart from all these, make sure that your operating system supports your goals. If you want to develop something for the iPhone, it would be better to use Mac for coding. 
A great processor and surplus RAM with decent graphics would also mean that you can perform coding at lightning speed. A speedy laptop saves a lot of your time and lets you meet your deadlines smoothly.
A good programming laptop must also have a good keyboard. A comfortable backlit keyboard even lets you code at night.
When it comes to a good programming laptop, look for its processor, memory, display, graphics, and a comfortable keyboard for typing. 
Final Verdict
The best programming laptop is the one that caters to all your coding needs and fits into your budget as well. So, the best programming laptop has the best processor, amazing memory, terrific display, and a smooth keyboard that is too fitting into your budget perfectly.
For more information, visit Technographx.