For recording high-quality photos and videos, action cameras are popular. A lot of professionals and YouTubers use action cameras to capture some amazing shots. One disadvantage of these cameras is that they struggle when it comes to taking pictures in low light, which is where action camera flashlights come in. In this blog, we will tell you which are the best camera flashlights, but before that, we will tell you what you must consider when buying one.
Things to consider while buying an Action Camera Flashlight
Weight : One of the major things to look at while purchasing the flashlight is its weight. For this, first, you need to be clear about how big a light you want and the purpose of buying the flashlight. Suppose you are if you are going to attach the camera to your head, then you will not want to buy a big heavy light because it will then affect your neck. Most people prefer purchasing a lightweight flashlight to carry it with them easily. However, the choice may vary as per the requirements.
Compatibility: The compatibility will be the most important thing to consider while buying the camera flashlight because there is no need to buy an incompatible light and waste your money. So, make sure to check the compatibility of the light. If you have a popular camera like GoPro, you don't need to worry much because most flashlights are compatible with this camera.
Weather Protection: A good camera can withstand all the weather in the same way; a good camera flash light can handle and work in all types of weather. Also, one must ensure that it is waterproof or water-resistant so that when you take it under the water for shooting, it does not get damaged. If you purchase a light that does not get damaged while shooting in water, you can enjoy many underwater sports and record them nicely for your viewers and personal memory.
Beam Strength: One thing that you must not forget is the beam strength. The lumens determine the beam strength. The beam strength increases as the lumens increase. If you require an action camera in darker areas, you must try to get a flashlight with more lumen capabilities. The bigger the size of the flashlight, the more will be the radius covered by them. So, try to get a larger flashlight while you spend money on camera flashlight. However, one must put in hard work to find such a light as most of the lights come in small sizes.
Battery Life: Battery life is an important consideration when buying a flashlight. You will need more battery life for your flashlight for longer hours of use. Some lights only have a battery life of about 2 hours, while others have a significantly longer one.
You will also have an option to select a rechargeable light or a traditional battery-runner light. If you purchase the rechargeable light, you must take breaks whenever the battery completes. And, when you buy a battery light, you just have to change the batteries when they are completed, so it can be a better choice for you as it does not include any charging hassles.
1. LitraTorch 2.0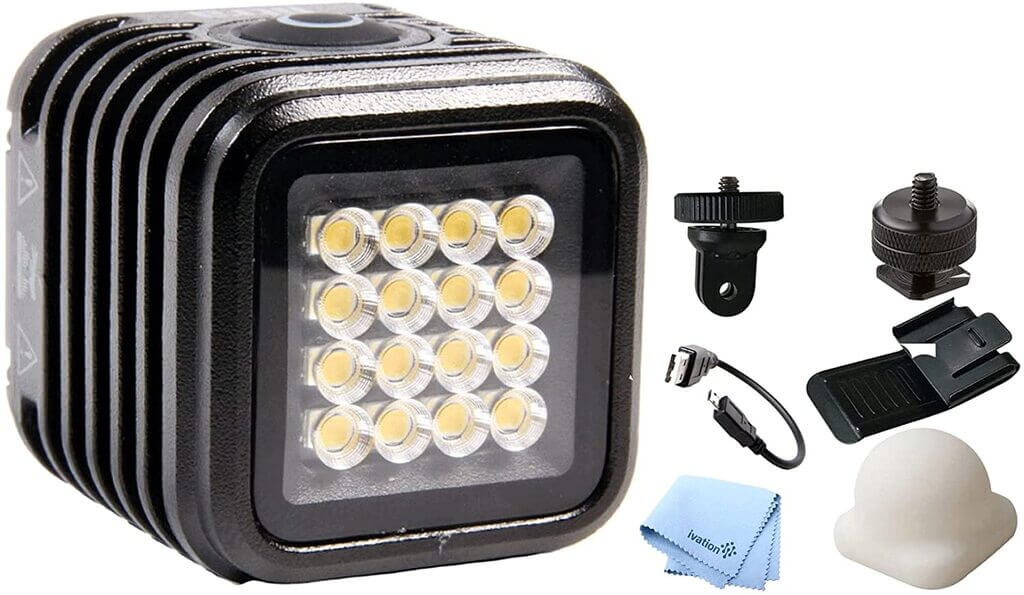 The LitraTorch 2.0 is a type of studio lighting that can easily fit your pocket. The torch offers 800 lumens of non-stop, high-quality lighting with a beam angle that can match the extreme camera angles.
Features:
Dimensions: 3.8 x 3.8 x 4.1 cm / 1.5 x 1.5 x 1.6″
5600K is the color temperature.
Lights: 800
Dimming range: 13 to 100%
Plug-in power: Micro USB
90 grams/3.17 ounces
Pros
a sturdy heat sink
good compatibility with mounting
USB dimming charging
Cons
Lacks power output
Gets heated
2. Ulanzi L2 Cute Lite Waterproof LED Light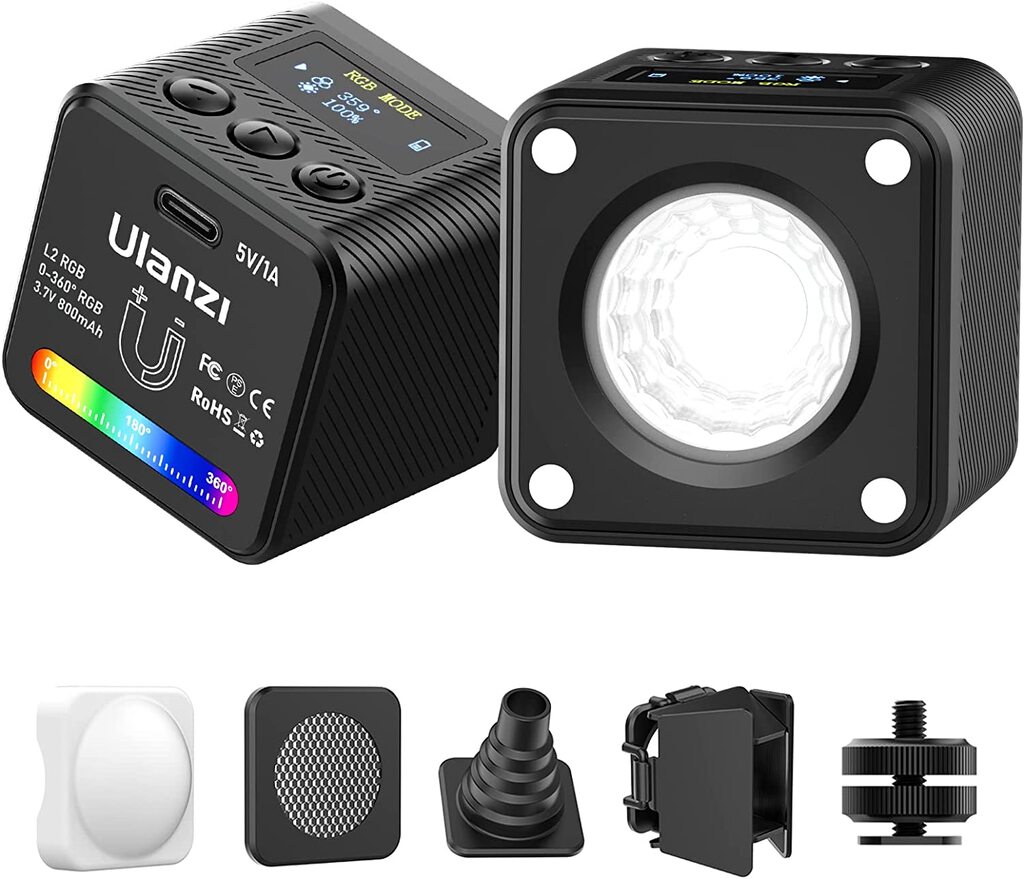 The flashlight by Ulanzi offers amazing lighting for your selfies, water adventures, and any promotional activities. Its battery provides 1 to 4 hours of lighting and can charge through a magnetic charging cable.
Key Features:
Dimensions: 41 x 41 mm / 1.6 x 1.6 in
A 5500K color temperature.
Lights: 800
Shade: Stepped
Power Source: Built-in Battery
70 g/2.5 oz in weight
Pros:
Waterproof
Cost-effective
Many accessories
Magnetic mount
Cons:
Battery problems
Small light radius
3. VL-81 LED Video Light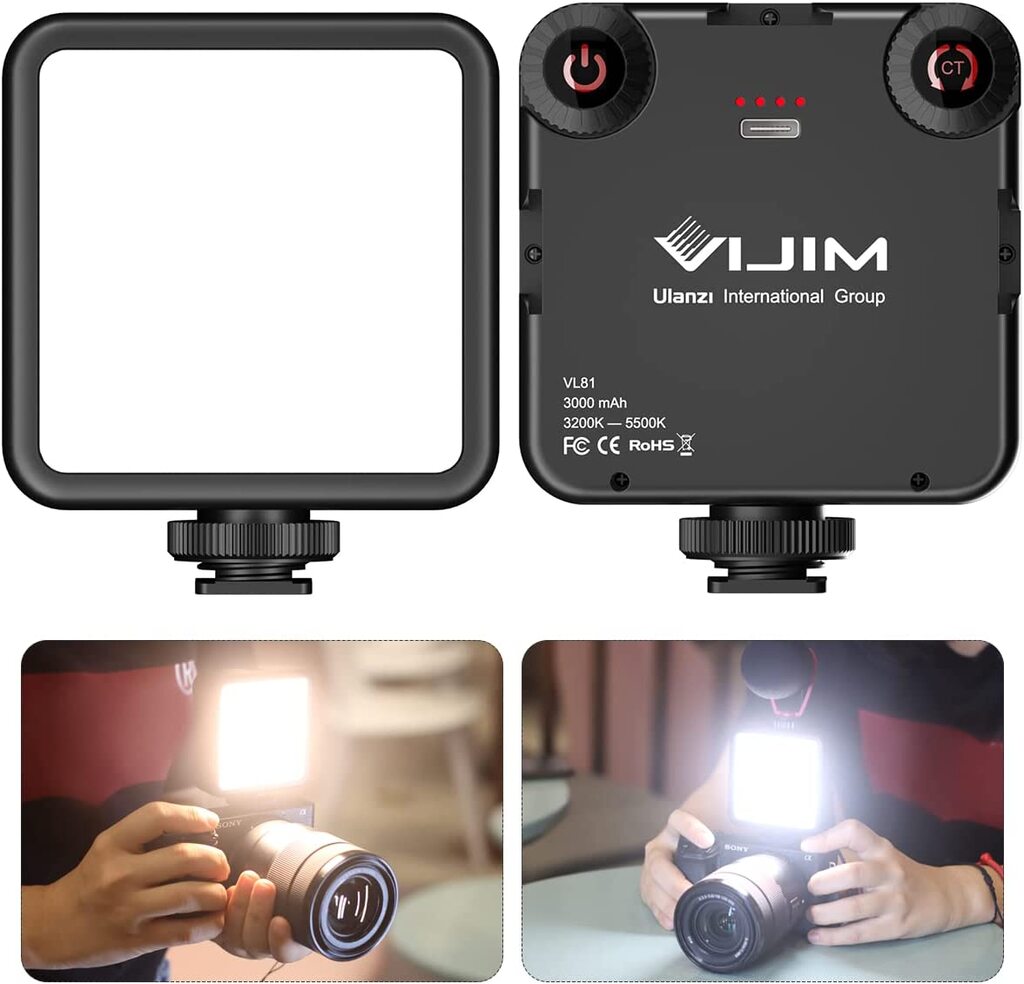 The flashlight is perfectly suitable for vlogging. In case you need more illumination, you can attach extra units to the 3 shoe mounts provided on the top & sides. One can use these mounts to attach accessories like a mic for expanding your mobile setup.
Key Features:
Dimensions: 90 x 76 x 26 mm / 3.5 x 3 x 1″
3200 to 5500K for the color temperature
Lighting: 850
No dimming
USB-C power input
4.09 ounces or 116 grams
Pros:
Fairly priced
Works with the majority of the cameras
Perfect color temperature
Cons:
4. Nitecore EA 41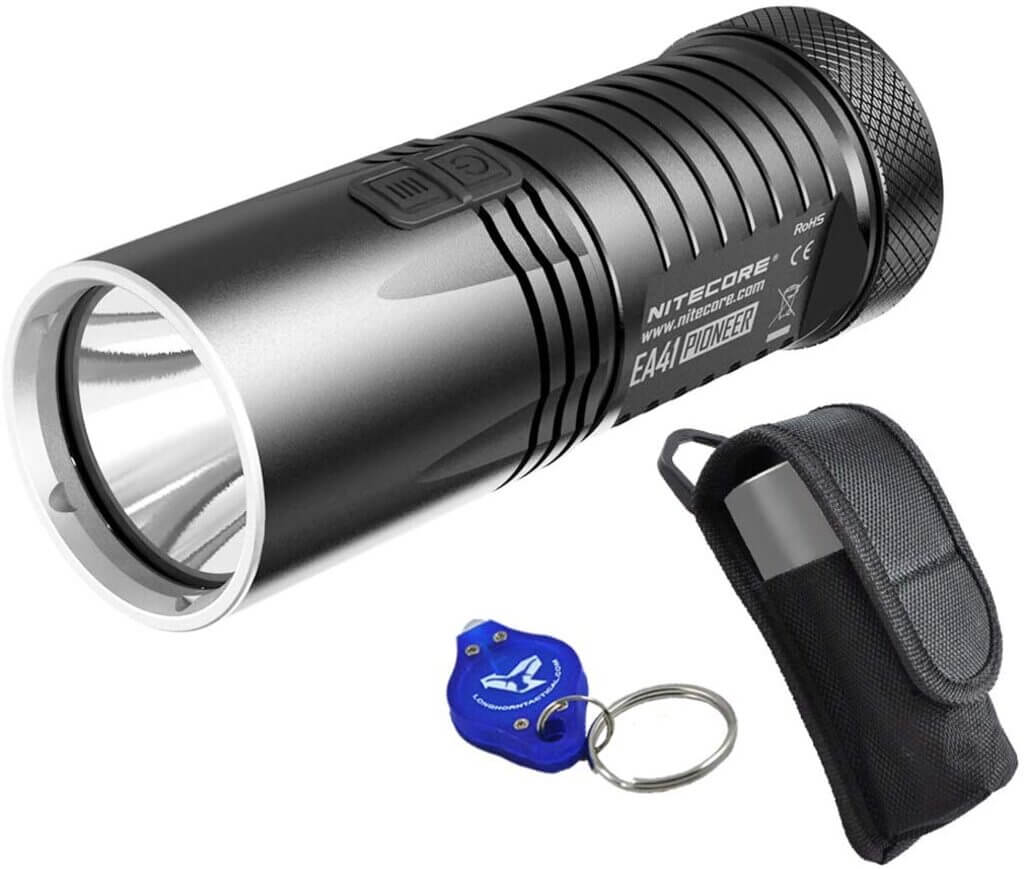 The flashlight by Nitecore is a useful addition to the company's flashlight series. The EA41 adds new features based on consumer input and extensive design research, building on the tried-and-true capabilities of the EA4. It has some of the best features, which we discuss here.
Key Features:
Diameter 1.6″ / 40.6mm
Size: 4.6 "/ 117mm
5600K is the color temperature.
1020 lumens
Dimming range: 13 to 100%
Battery power: four AA batteries
Weight: 153 g/5.3 oz.
Suitable for: Handheld
Pros:
High output of lumen
More options for lighting modes
Sturdy built
Cons:
5. GoPro Zeus Mini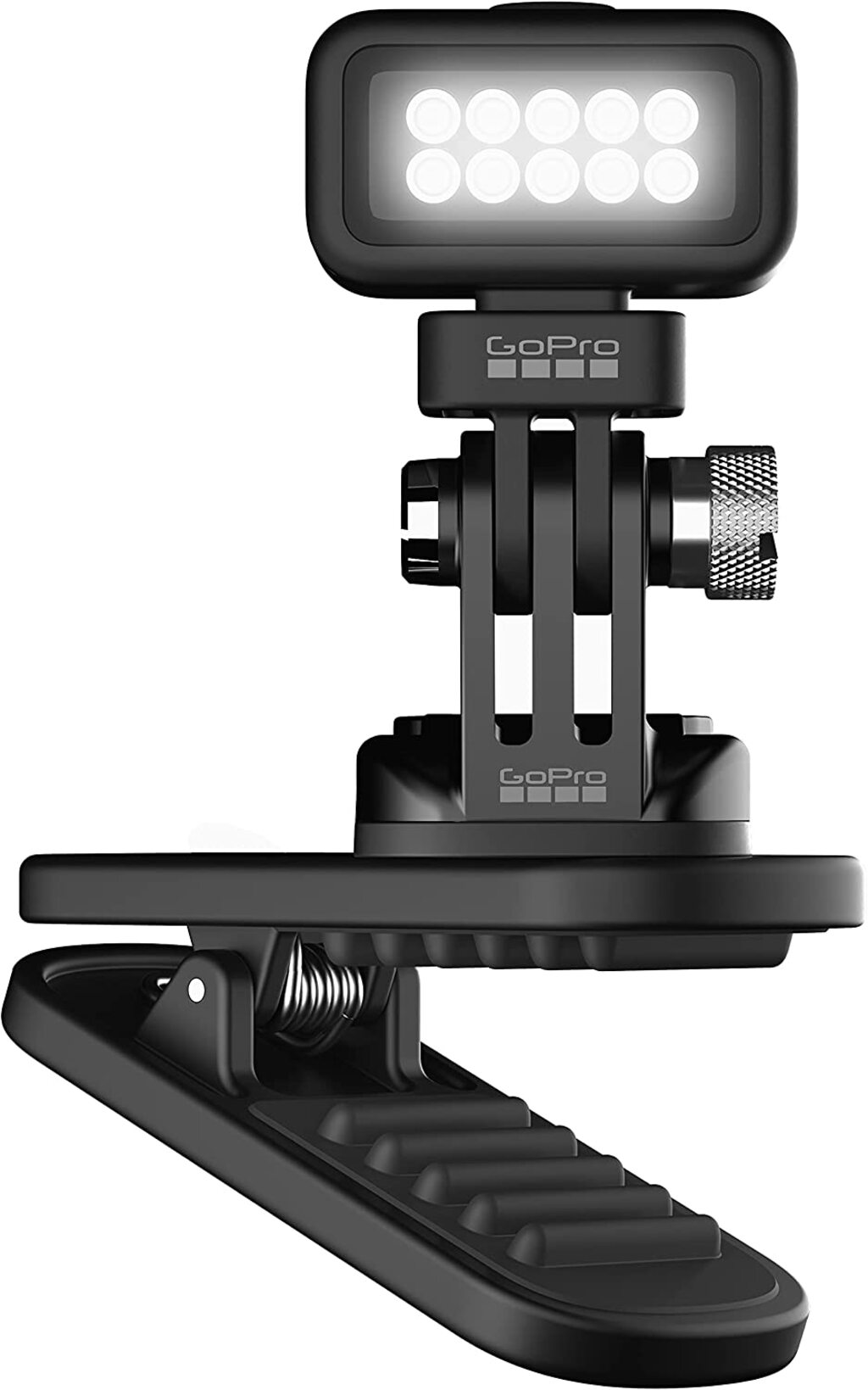 Zeus mini is a strong magnetic light that provides versatile, waterproof, and hands-free LED illumination for adventures, sports, vlogging, and many more activities. It has a 360-degree swivel that allows you to select your lighting angle.
Key Features:
A 5700K color temperature.
Four brightness settings are available: 20-60-125-200 lumens.
USB-C power input
Weight: 100 g/3.53 oz
Pros:
Easy to recharge
Amazing lighting features
Compact
Cons:
Compatible with only GoPro
6. Suptig XShot Dimmable LED Video Light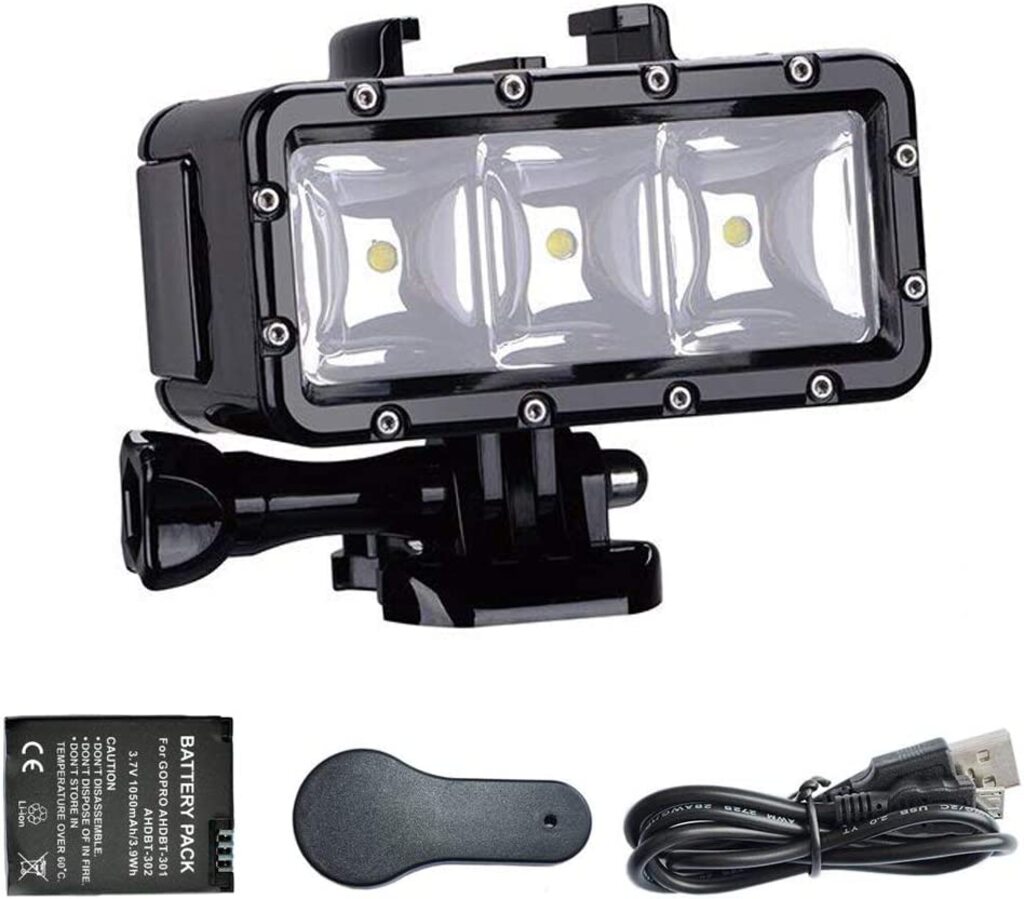 The product is amazing and provides you with a great experience while shooting in low light. It is perfect for shooting videos at night and underwater. So, you can enjoy your underwater activities and record them in the best way. It comes with a 2-year warranty.
Key Features:
Dimensions: 7.6 x 7.6 x 3.8 cm / 3 x 3 × 1.5″
A 5500K color temperature.
Three dimming levels are available: 10%, 60%, or 100% brightness.
USB power input
Weight: 90.7 g/3.2 oz
Pros:
Waterproof
Compact in size
Works with the majority of the cameras
Cons:
Less battery life
Less dimming modes
7. Hongdak Underwater Diving Light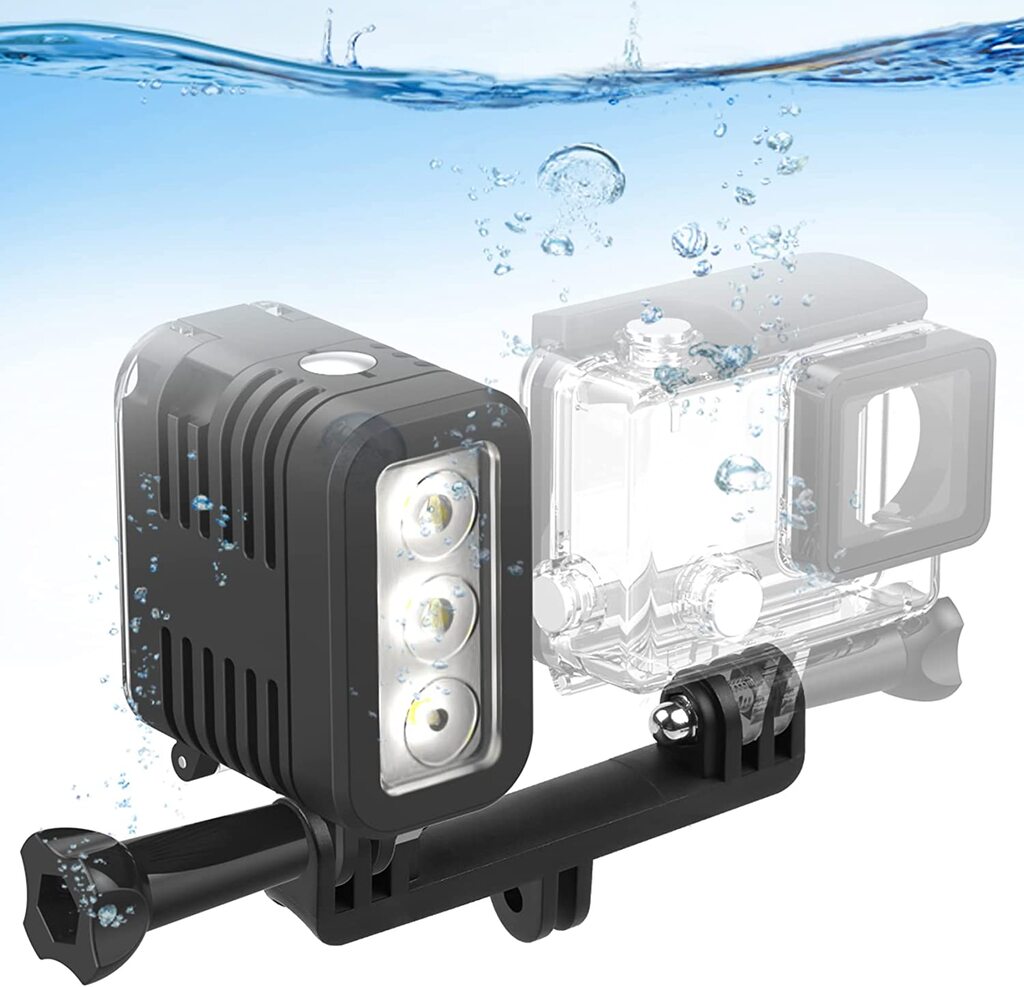 The Hongdak diving light is a good light having a compact design; carry it with you wherever you go. The light helps you take beautiful underwater pictures and videos. If you are the one that enjoys doing underwater activities and recording them, then this light is a must for you.
Key Features:
Multi-functionality
Easy to use
Wide angle lighting
Widely compatible
5500K ColorTemp
Pros:
Waterproof
Long battery life
Adjustable lighting
Cons:
8. Simorr LED Video Light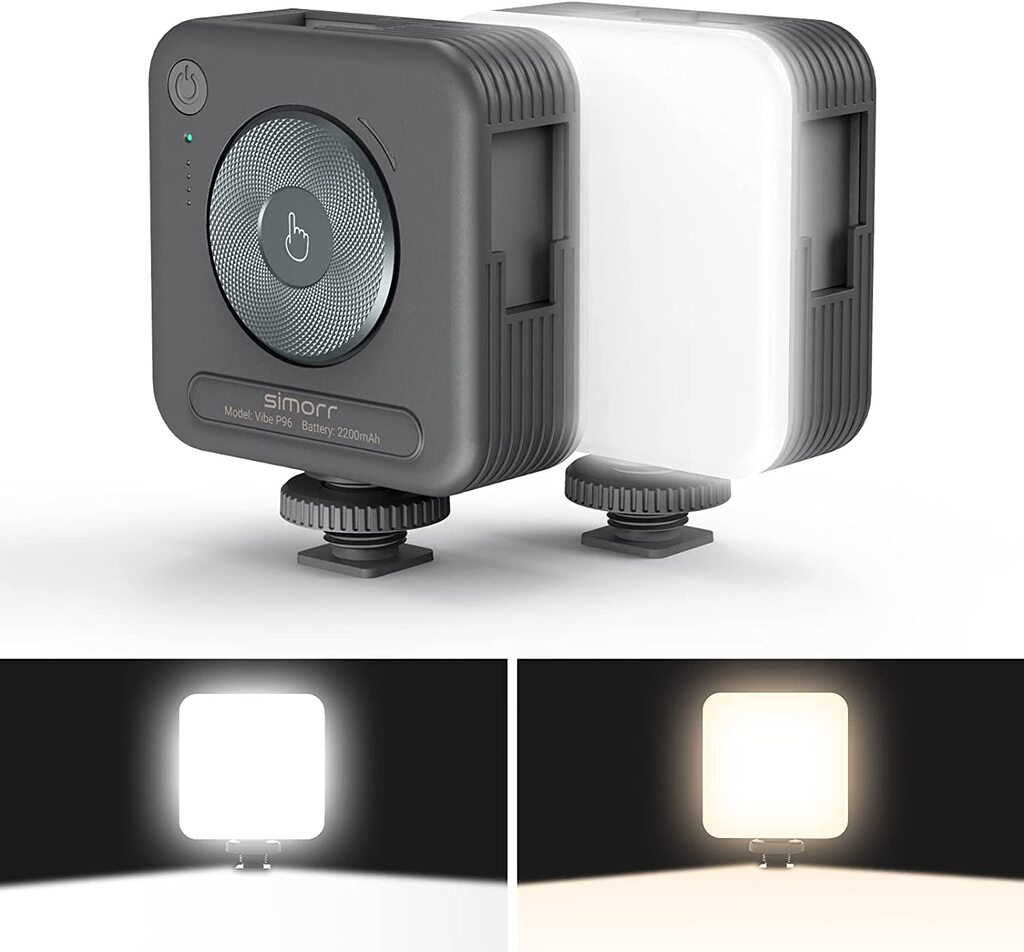 Now, you can brighten the objects with the help of this best action camera flashlight. This variable-color LED light has a 120° beam angle and a high CRI of 95+ for realistic color representation.
Key Features:
2700-6500k Dimmable
3 cold shoe mounts
96 LED beads
Standard ¼ screw
Pros:
Portable
Large battery
Easy to carry
Compatible with mostly all the cameras
Cons:
Weak magnets
Strange controls
9. GoPro Light Mod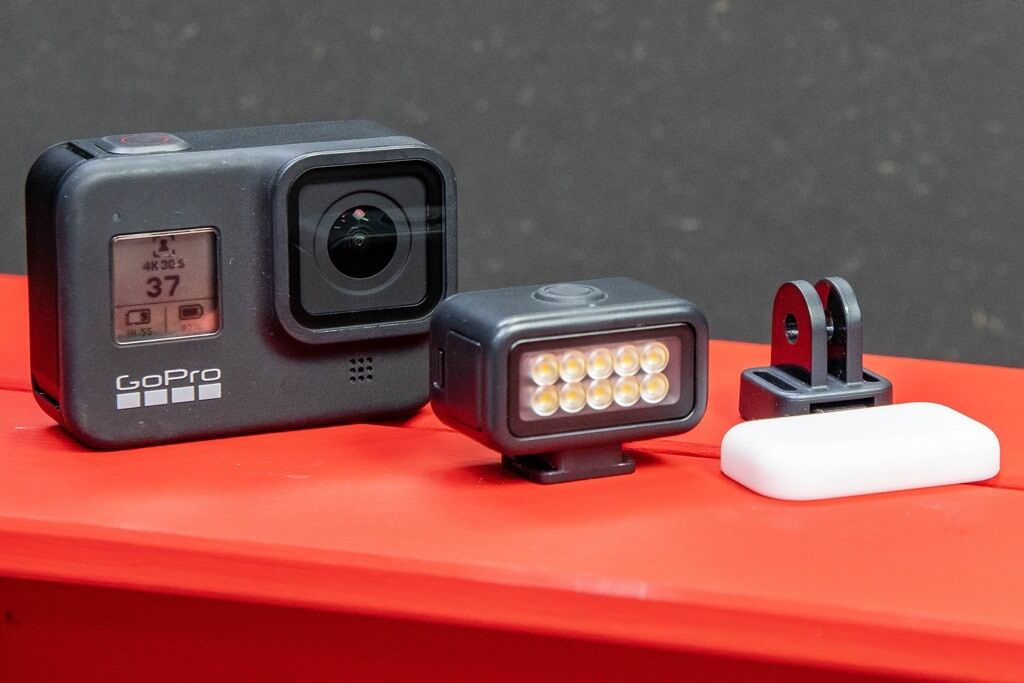 Make your next journey more powerful and portable with LED lights. By using Light Mod, you may get incredibly sharp video while illuminating your subject with a wide, even, and a smooth beam of light.
Key Features:
Four levels of brightness
Rechargeable battery for up to six hours
Color temperature without diffuser: 5700K
Pros:
Compatible with the majority of action cameras
Good battery life
Cons:
10. Ulanzi VL49 LED Light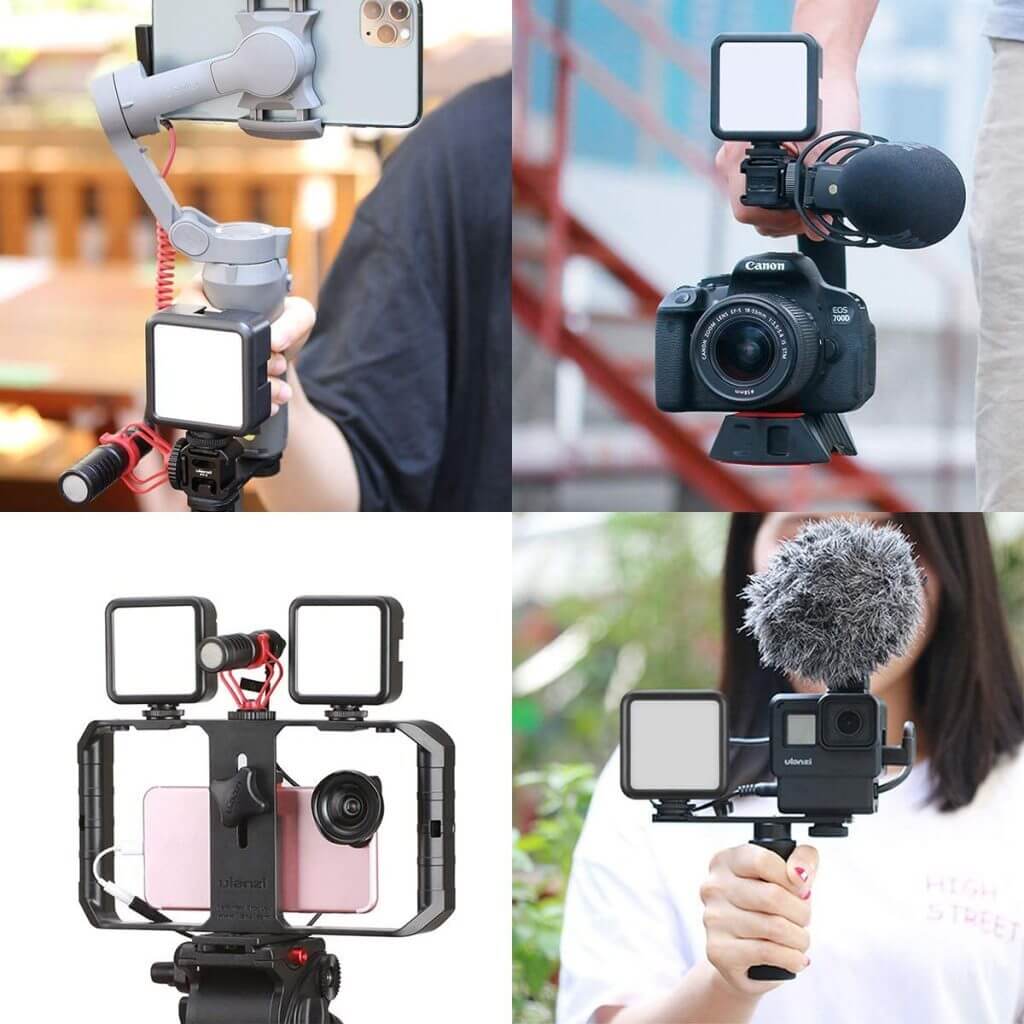 This cold shoe rechargeable LED light array was created for the DJI Osmo action camera. However, it also functions with a number of DSLR camera systems, such as the Canon and Sony DSLRs.
Key Features:
2000 mAh battery
Adjustable color temp
Cold shoe mounts
Pros:
Good brightness
Additional expansion joints
Cons:
Tips for Shooting in the Low Light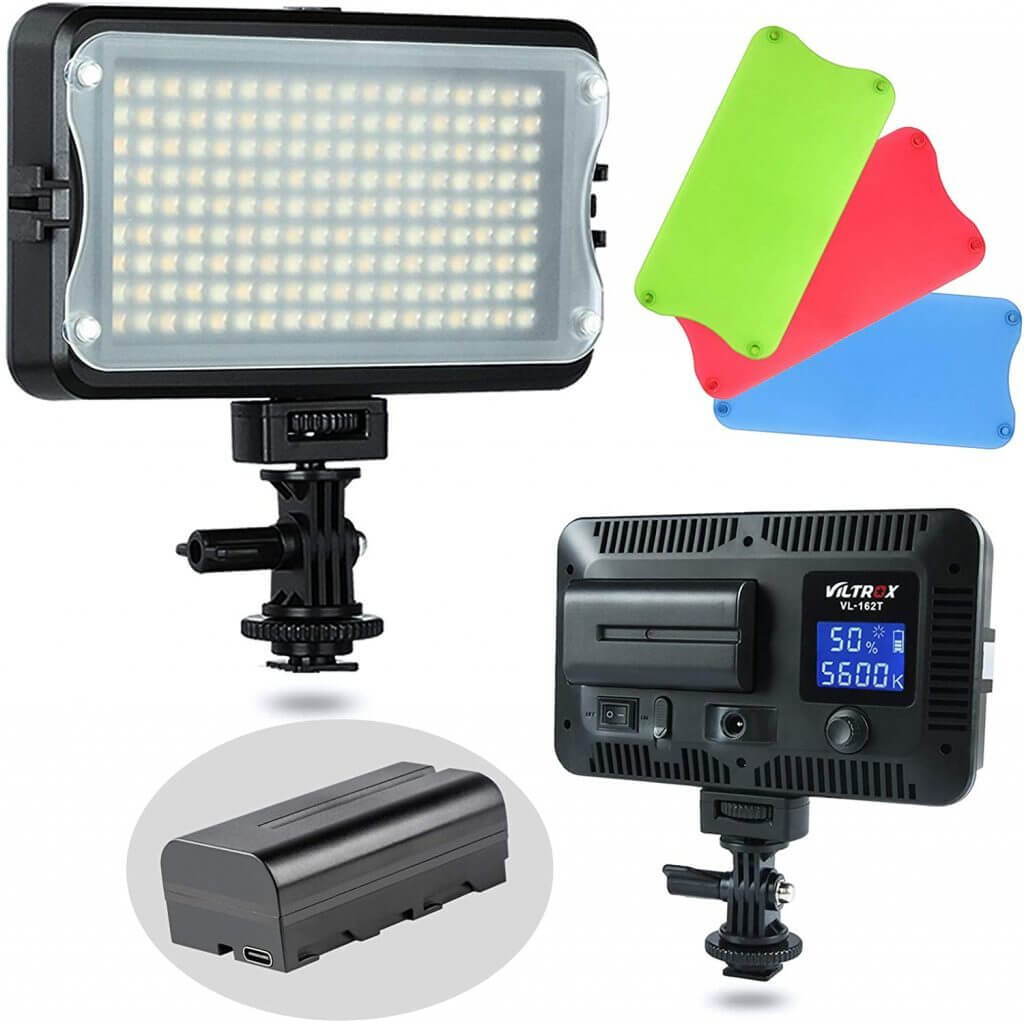 Even if you have some of the best cameras and flashlights, capturing good photos and videos won't be possible if you lack the technique to shoot properly. Thus, here we will also give tips that will help you shoot in the low light.
Follow the below tips for getting the best captures in the low light:
1. Slowly Moving the Camera
Recording in low light is difficult, and if you want to capture good images in such a scene, you need to be careful of your camera movement. Thus, you must take care of and move your camera slowly and evenly.
2. Raising the Light Source
Light is much needed to capture good photos and videos, so try to arrange the artificial light when shooting in low light. The best way to do this is by using a flashlight with built in camera or by using the flashlights that we have mentioned above.
3. Fix Your Action Cameras
Electronic Image Stabilization (EIS) can appear noisy even though it does an excellent job stabilizing your film. Thus, you can use a gimbal stabilizer rather than relying on the EIS on your action camera. By doing this, you can get the stability required for accurate shots.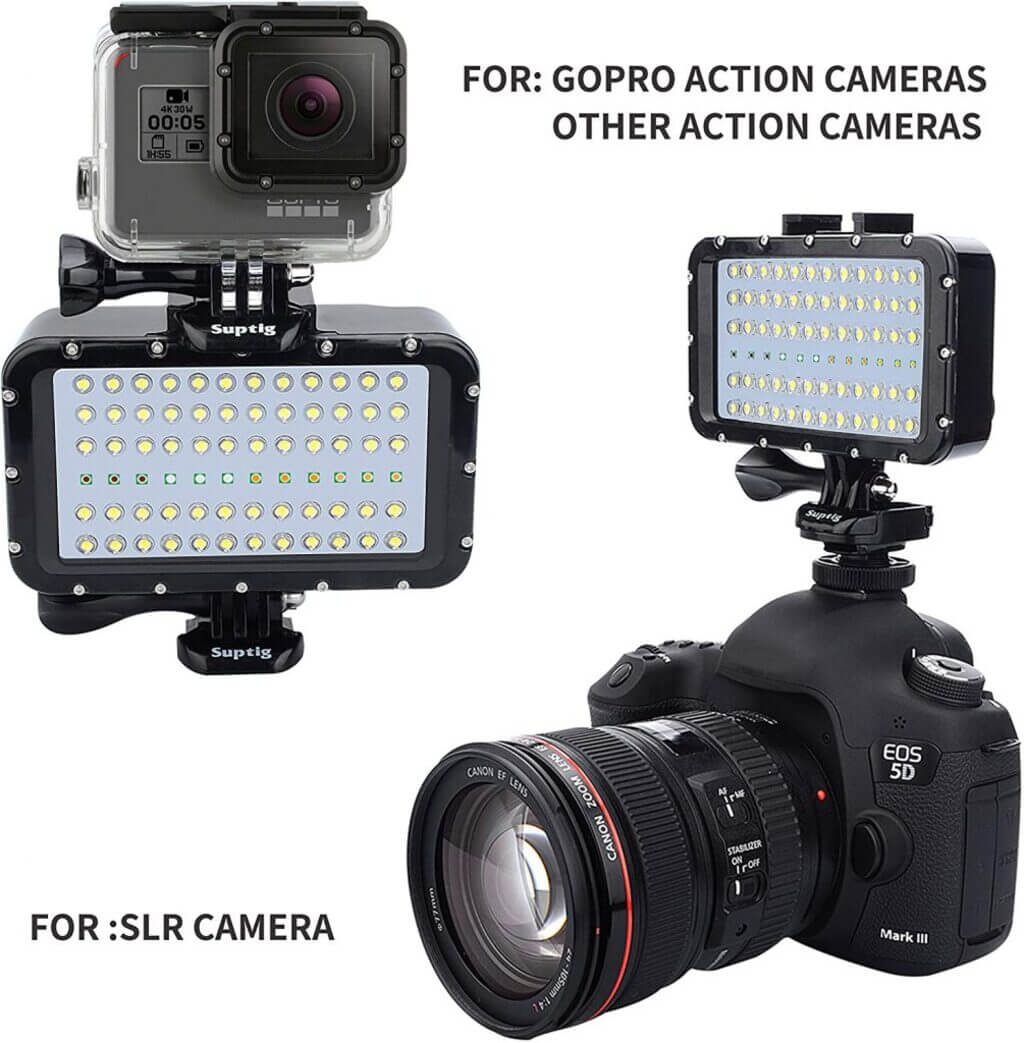 FAQs
Do Action Cameras Come with a Flash?
No, they don't. That's why action camera flashlights come into the picture. With an action camera flashlight, you can capture your nighttime shoots perfectly with a long exposure time.
Can you use GoPro Light Mod without Media Mod?
Yes, a white light diffuser comes with the GoPro action camera flashlight to soften the light.
Are Action Camera Flashlights Costly?
There are many such flashlights in marketing, ranging from cheap to expensive rates. You can buy one by paying as little as $ 15 to as high as $ 70. The price depends on the quality of the product.
Final Thoughts
At last, we would say that flashlights can be of utmost use when recording in low light. Some of the best cameras also fail while recording in low light; thus, you must find action camera flashlights. We have mentioned some of the best flashlights you can use to capture the best pictures and videos.
Explore further: