From getting food delivered at your doorstep with just one click to getting gifts delivered for your loved ones with another, technology has set the bar high. You might be struggling for more ideas to surprise your loved ones in more innovative ways.
We often end up forgetting important dates. Sometimes, we're unable to choose the best gift for our better halves. Many people stress out so much about buying gifts that they end up having a panic attack. We've become extremely indulgent in our fancy lives. So much so, that we've forgotten the wonders our creative brains can do!
We make snaps and stories of literally everything we do! Why not turn them into a beautiful slideshow to walk down the memory lane with our loved ones? We're here to help you in using the internet to make a perfect picture slideshow and relive all your moments in a single slideshow!
How Can You Make The Perfect Picture Slideshow?
Thanks to the many video editing apps available on the internet, making and editing videos is extremely easy now. You don't need to be a professional to make videos. An online slideshow maker can make videos as professional looking as someone with years of experience.
Choosing the best application for making these memories count is important. To ease the process for you, here are some ground rules to follow before choosing your online slideshow maker application.
1. Premium vs Basic
Many video editing apps give you basic options like speed adjustments, transition tools, background music options, filters, etc. However, most of these apps require you to upgrade to a premium version to use the elite tools for a better quality of the video. Some might cost a bomb while others may have a minimal fee. Options like removing the watermark or using better filters to the video, are kept locked until you upgrade to the premium version of the app.
If you wish to make videos professionally, it's advisable to upgrade to a premium rendition. But the premium variant will cost you money. The basic version is alright if you're editing the videos for fun.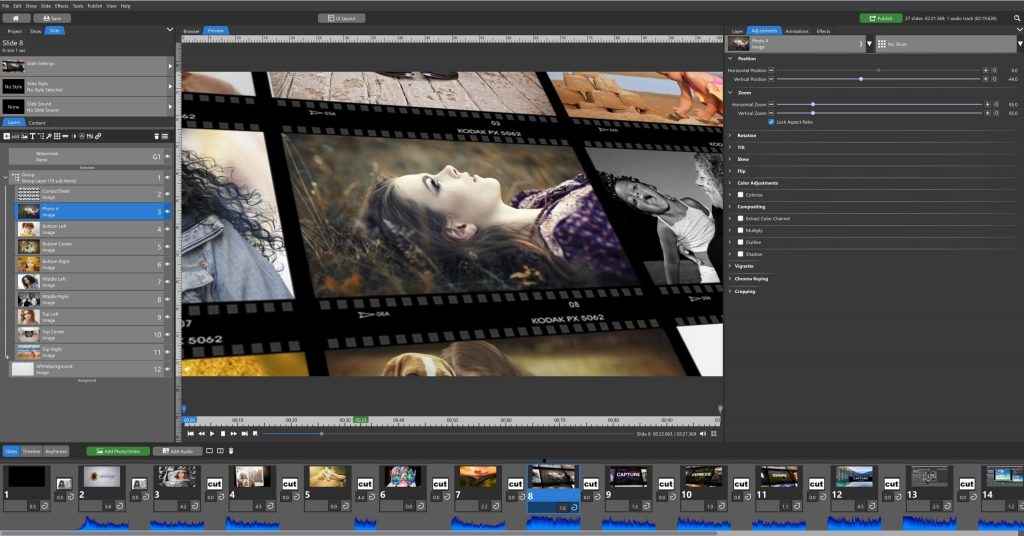 You can use InVideo for getting premium-like tools without paying a hefty amount. It has all the video editing gizmo for elemental as well as professional work.
2. Advanced Editing Tools
As mentioned previously, to use some advanced editing tools, you need to upgrade to a premium version of most of these applications. You may search for video maker free online and look for the ones that provide these tools for free. It might take some extensive research, but the internet is full of options.
You can always put in some effort to make your loved ones feel special by creating the perfect slideshow of all your memories together. Playing with these tools will give you some exquisite results. Once you get hold of the features, it will become an effortless process altogether. Experimenting around with the different features, speed settings, background voices, etc. becomes less of a daunting task after the first few trials.
Advance editing tools will include transition tools, creative filter options, cropping/straightening options, erasing tools, audio-video mixing tools, etc. Using these features creates alluring results! You might be intimidated at first, but most of these applications are designed for non-professionals. They're mindfully designed for use by regular individuals to create videos with convenience. You don't have to have in-depth knowledge or majestic video editing skills to use these apps. You simply need to have a phone, an internet connection, and the heart to make your loved ones happy!  You can sit back and search for the most resourceful and accessible option from the vast platter on the web.
3. User Interface
This is one of the most important aspects of choosing a video maker application for yourself. There are several options available, but they might be quite complex to use. They might have all features haphazardly crowding the screen.
Some might be too basic to use, making the experience a dull one. Some interfaces may lag with every tap, making the whole process slow and tedious. A smooth interface makes the work all the more easy and pleasurable.
You can opt to read online reviews and public ratings of the applications for a better understanding of its performance. This will save you time and energy.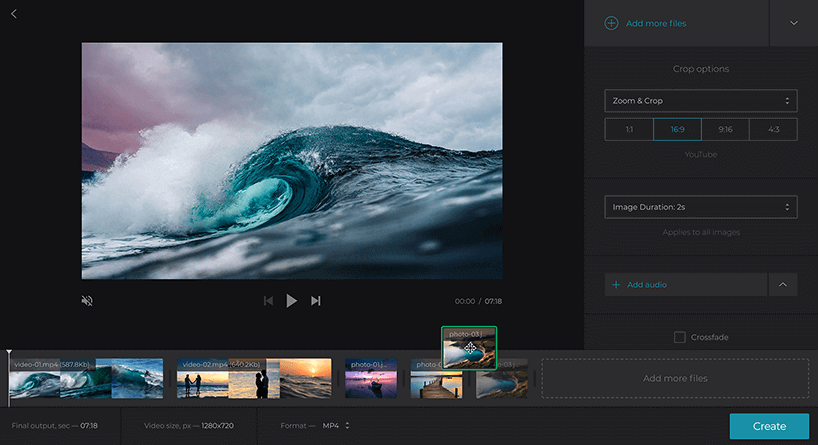 Coming to 'how you can make the perfect picture slideshow, here's the answer:
Choose all the videos and pictures that need to be put together in the slideshow, and put them all in one folder. This will ease out your task by keeping everything in one place so you wouldn't have to keep searching for that one video/picture everywhere.
After selecting all the videos/pictures, you wish to have in your slideshow, start editing them. Use filters, effects, text messages, stickers, etc. for a personalized and innovative result. Play with speed and transitional effects, add some music or record your voice as the background audio. These minimal details will make your video unique and special.
Once all the detailing has been done, save your slideshow. Make sure you choose a good resolution as the video quality matters a lot. After the video has been saved, VOILA! Send it to your loved ones and make them feel special!
Conclusion
Anything that you put your time and effort into becomes significant and important. Be it – handwritten letters, polaroid snapshots, little bottles of secret messages, or personalized video messages. Videos can be an amazing and beautiful way of telling your family and friends that you love them.
Video messages are a great way of expressing yourself. With simple app gizmos and techniques, you can make memorable souvenirs that will be cherished for eternity. Video editing might seem a complex task, but once you get a hold of it, it's all extremely easy and fun.
Start with the basics, and you'll end up being truly immersed in the world of effects, filters, and mind-blowing transitions!
Explore further: