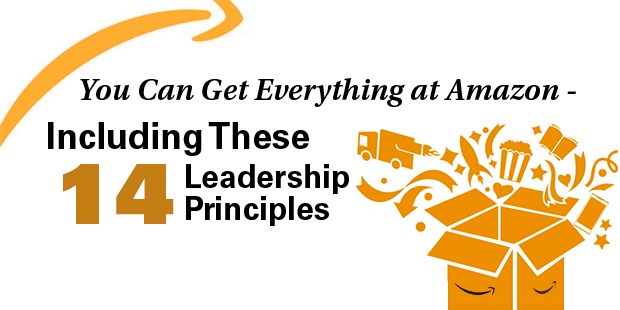 Amazon, the global tech-giant has progressed a lot and is now more than simply an e-commerce store. The
Amazon 14 leadership principles
are the driving force behind the success of the company. Let us have a look at those principles.
Source :- i0.wp.com
1) Obsession for Customers
Customers are the biggest asset to any business. If there are no customers, then how will the business make progress? The leaders know this thing very well and so they pay a lot of attention to earn their trust.
2) Ownership
Leaders think of long-term and they act on behalf of the entire company for taking it to heights. They take the complete ownership of their task.
3) Innovation
Leaders always look for innovative ideas and order their team to come up with new ways for simplifying and improving the process.
4) Strong judgments
Leaders have strong judgments and they seek different perspectives from a different group of people before coming to a final conclusion.
5) Always Curious
They always keep learning and look for new possibilities for improving the process. They keep themselves updated too.
6) Hire and Develop the Best
Leaders have the quality to recognize the best talent and coach them to get better with their work and raise their performance.
7) Insist Always on the Highest Standards
Leaders always want their team to raise their efforts and develop the best quality products. There should be no compromise in the quality.
8) Think Big
Leaders always emphasize thinking big and doing big so that a lot of progress is achieved in a single leap. It also increases the name of the brand through big achievements.
9) Take Actions Fast
They believe in taking actions very fast and no time should be wasted in delays. The calculations should be made properly for risk checking.
10) Frugality
They believe in achieving more with fewer efforts and fewer resources. They plan everything properly and control the costs extensively.
11) Earn Trust
Leaders treat others respectfully, they speak candidly and listen attentively. They review everything properly and listen to critics and learn from it.
12) Dive Deep
They stay connected to all the details, they operate at all levels, measure the metrics and audit everything frequently.
13) No hesitation
They don't hesitate to say their views when they find anything wrong, they challenge the decisions and don't compromise for the sake of social cohesion.
14) Deliver the Best Results
They believe in delivering the best results within the stipulated time frame. They don't like to extend the timeline despite any obstacles.